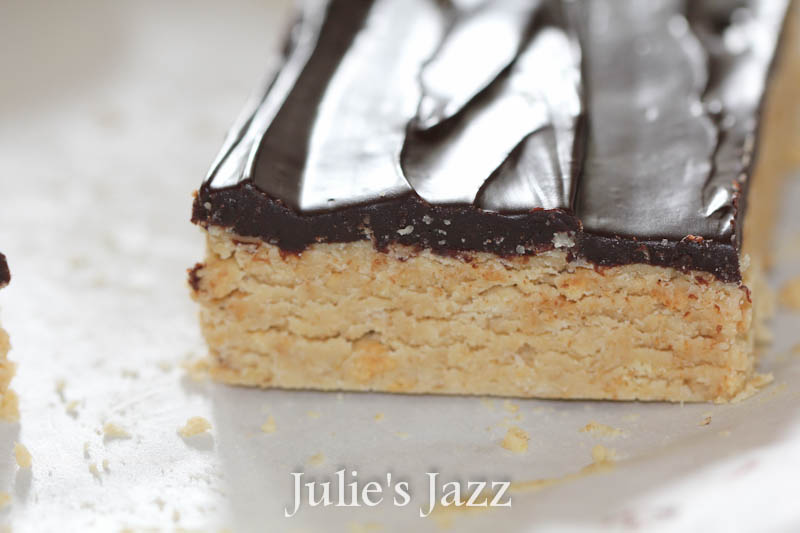 I realize it's Cinco de Mayo and I don't have anything festive for you for it.  Unless you have consumed at least 6 or more shots of Don Julio don't put hot sauce on these peanut butter bars.
About six years ago I worked with a woman who gave me a recipe for the peanut butter bars I grew up eating in school.  She claimed her sister was a lunch lady/cook at the very Jr. High School I attended back then.  I lost the recipe before I ever tried making the bars. Ever since then I have been searching for "thee" recipe.  I think Six Sisters Stuff comes really close with their recipe "Lunch Lady Peanut Butter Bars."  


Recently a coworker gave me another recipe for some peanut butter bars.  I immediately knew that they were not "thee" bars because the recipe didn't call for oats.  But I decided to try them anyway, because who doesn't like peanut butter, chocolate, and a new way to marry them?  I tweaked the recipe because I can't help it. It is what I do.  These bars are wonderful!  They have a nice dense peanut butter consistency topped with a beautiful, shiny, soft, chocolate ganache.  They are not "thee" bars but they are really good.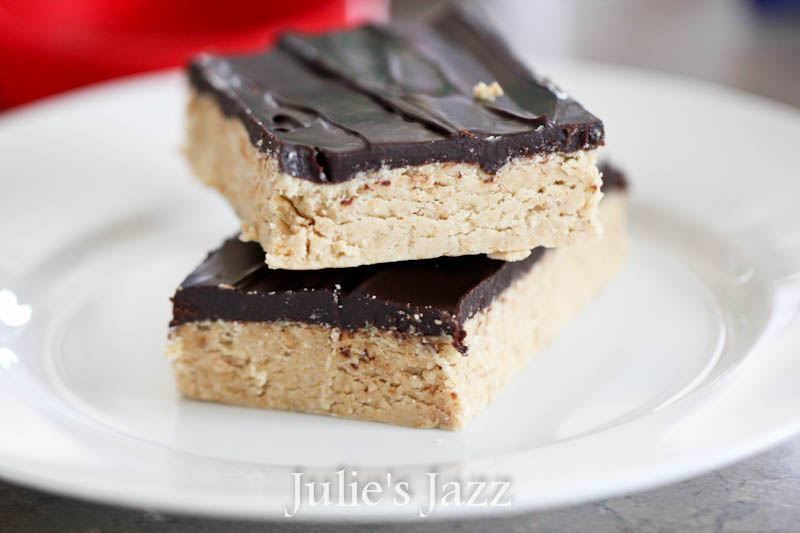 Maybe sometime someone could explain to me the virtues and chemistry of chocolate.  I took this ganache to hell and back (not on purpose).  I never mean for it to happen but half of the time the chocolate will immediately turn grainy when I pour in the cream, and sometimes it will seem to separate (oil/chocolate).  Then miraculously it will smooth out with relentless stirring and continuous indirect heat.  It drives me crazy!  More than once I have sent Ben to the store for more chocolate because I think I have ruined it.  By the time he gets back it is perfect!  I don't get it!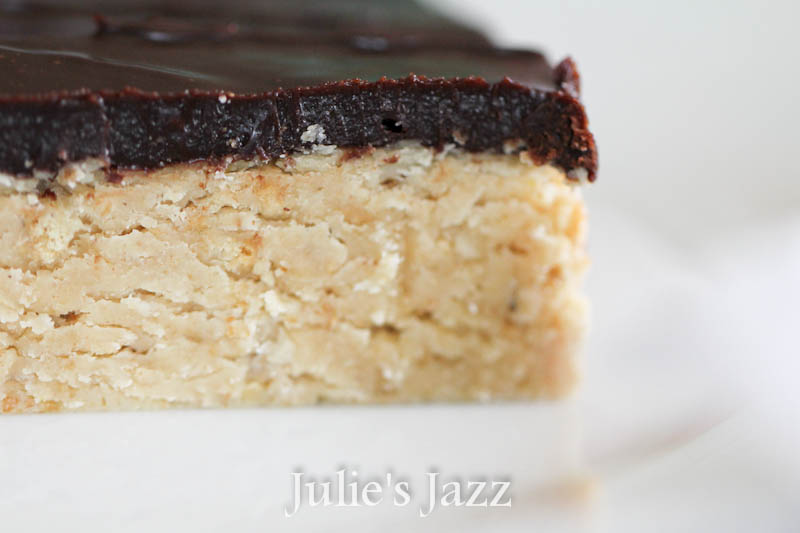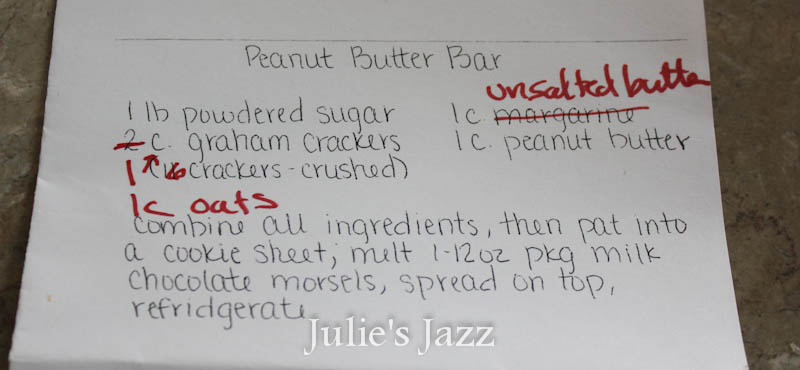 Basic No Bake Peanut Butter Bars


-1 lb. powdered sugar (about 4 cups)
-1 c. crushed graham crackers
-1 c. oats (I used instant)
-1 c. butter softened (I used unsalted)
-1 c. creamy peanut butter
Line a 9"X13" baking pan with foil lined parchment paper.  In a large mixing bowl cream butter and peanut butter.  Add sugar and mix thoroughly.  Stir in graham crackers and oats (you may have to use your hands). Press mixture evenly into you lined pan.  Top with chocolate ganache and refrigerate for a couple of hours.  
Cut into bars and EAT!!!
Chocolate Ganache
-12 oz. semi-sweet chocolate chips (I used 60% cacao chips)
In a double boiler (over medium heat) add all chocolate chips and cream.  Stir mixture until melted and smooth.  Pour over peanut butter bars.