(with mini marshmallows, toffee bits, and mini chocolate chips)
for The Great Food Blogger Cookie Swap 2013

This time of year it's not the grand gestures that stick out in my mind.  It's the little things.  I didn't know what the Great Food Blogger Cookie Swap was until this year when I was doing some food blog browsing and happened to see a little button for it on someone's blog.  I thought it was something I would love to try but was worried about having enough time to do it.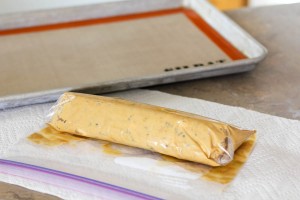 It turned out to be a one afternoon project and it was well worth the trouble.  My favorite part of the whole project was looking at the blogs of the people who sent me cookies and knowing that they took time out of their busy schedules to make me a yummy treat.  It was fun to connect with other bloggers across the country.  I will definitely participate in it again next year!  I also thought it was great that we were able to be a part of raising funds for kids' cancer.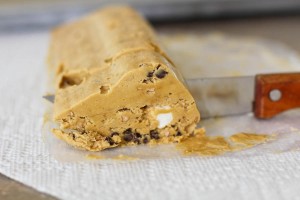 It is basically the same concept as a regular cookie swap only it happens online and you ship your cookies off to the names and addresses provided by the hosts of the swap.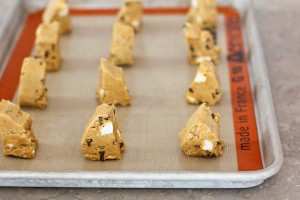 If you are interested about how it works here is a list of links with information that will explain everything:
How does Great Food Blogger Cookie Swap work?
Who hosts the Great Food Blogger Cookie Swap?  Love & Olive Oil and The Little Kitchen
Who sponsors the Great Food Blogger Cookie Swap?
What is the Great Food Blogger Cookie Swap for?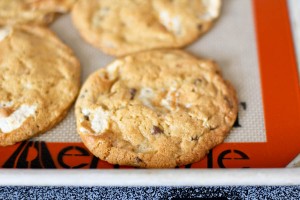 An enormous THANK YOU to Love & Olive Oil and The little Kitchen for hosting this project!
A huge THANK YOU to OXO and Dixie Crystals for the fun prizes you sent us in the mail!
And a giant THANK YOU to the three bloggers who sent me treats! ITZ LINZ, A Healthy Life For Me, and A Healthy Slice of Life.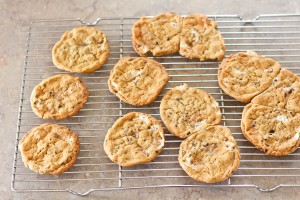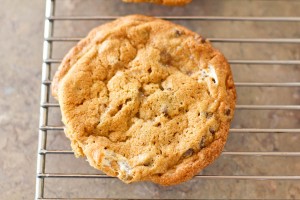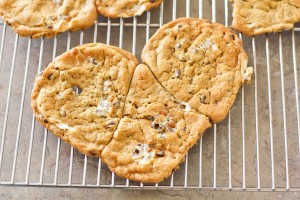 The recipe in this post is for the cookies I sent out to three food bloggers.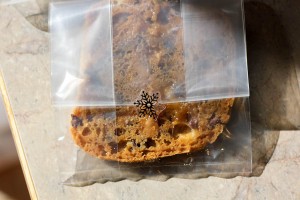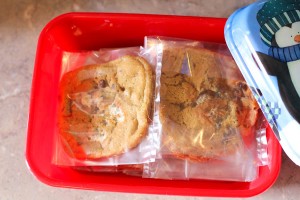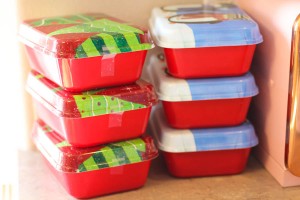 Loaded Peanut Butter Cookies
2 & 1/4 cups flour
1/2 tsp. baking soda
1/4 tsp. salt
1 & 1/4 cup brown sugar (packed)
1 & 1/4 cup white sugar
1 cup (2 cubes) unsalted butter ( softened)
3 eggs
1 cup (4 oz.) creamy peanut butter
2 tsp. vanilla extract
2 cups mini marshmallows
1/2 of a 12 oz. Nestlé Toll House mini chocolate chips
1/2 of a 8 oz. bag Heath Toffee Bits
In a medium mixing bowl whisk together the flour, baking soda, and salt.
In the bowl of a stand mixer combine the butter and sugar. Mix until well combined and fluffy.
Add the eggs one at a time and mix between each addition.
Add the peanut butter and vanilla and mix.
Add the flour mixture and mix until well combined.
Stir the marshmallows, chocolate chips, and toffee bits into the batter.
Divide the batter equally into 3 gallon sized Ziploc bags.
Press the batter into the bottom of the bag and form into a cylinder.
Seal the bags and place in the refrigerator for 2 to 3 hours (or overnight).
When you are ready to bake the cookies preheat your oven to 350F.
Cut the Ziploc bag off of the cookie dough cylinder and cut into 1 inch discs.
Cut each disc in two and place each half on lined cookie sheet about 2 inches apart. (I use a SILPAT but you can also use parchment paper.)
After cookie sheet is filled bake the cookies for 15 minutes.
Remove cookies from oven. Let them cool on the cookie sheet for a few minutes then transfer to a cooling rack. When cookies are cool enough, EAT THEM!!!
This recipe was adapted from Jodi Jenson's Chewy Peanut Butter Cookie recipe at Everything to Entertain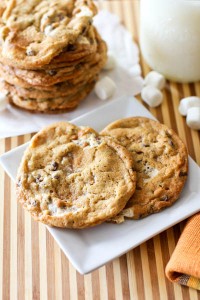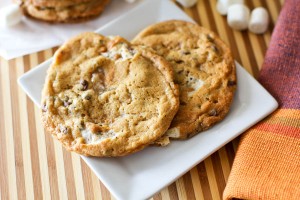 These are the cookies I got from Amy at A Healthy Life for Me.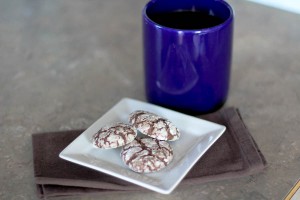 Before I could get a good photo of her cookies my family ate them all! So this is the tin Linz from ITZ LINZ sent my cookies in.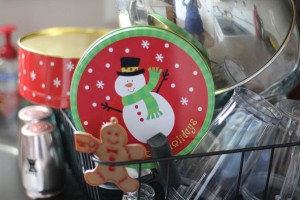 This is the peppermint bark I got from Brittany at A Healthy Slice of Life: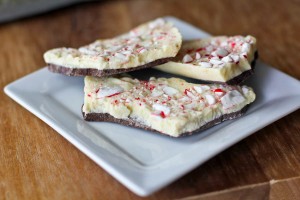 All these treats were so wonderful!  Thank you all very much!!!