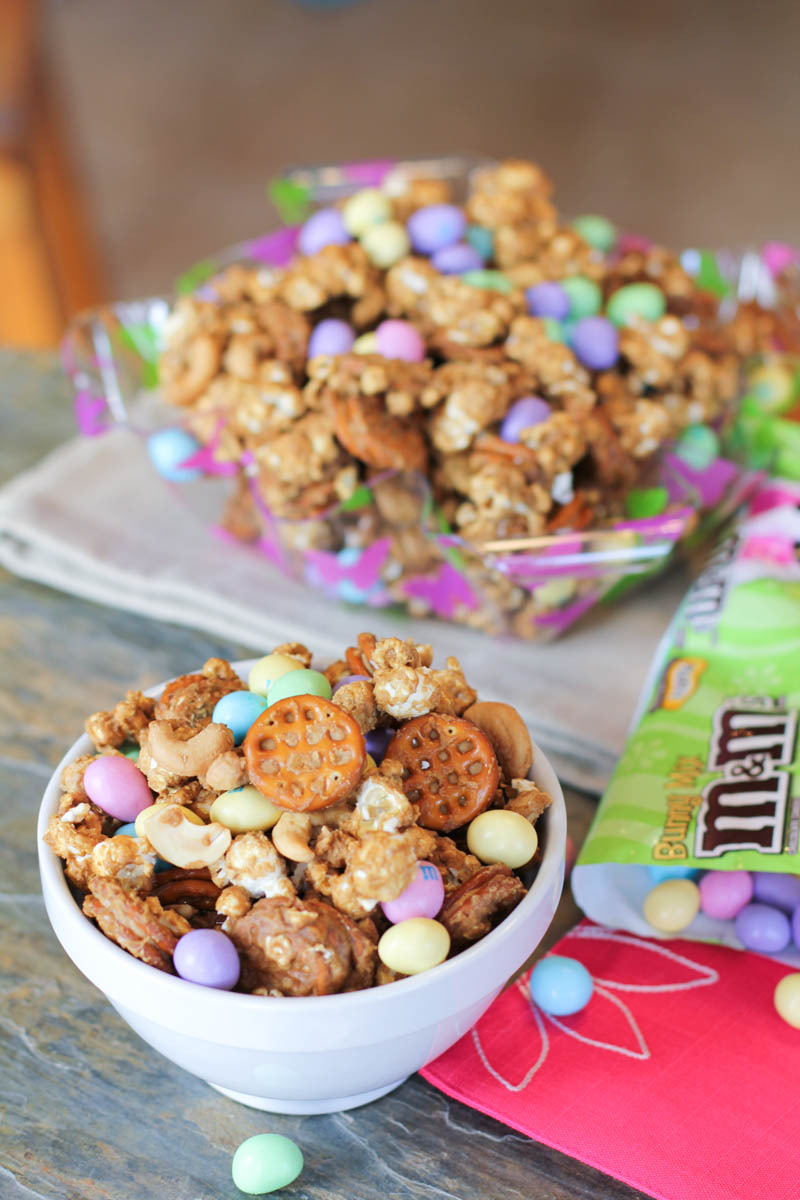 If you're thinking that the only ingredients that make this popcorn Easterish are the M&M's then you' re absolutely correct! Take those pastel pellets out of the mix and you have caramel peanut butter popcorn that you could eat any old day of the year.
Before this batch, I'd never made caramel popcorn before.  Most homemade caramel popcorn I've encountered has been a sticky, soggy mess.  I was scared to put the time into it with an inedible result.  When I finally decided to try making some I Googled, "homemade Cracker Jack recipes." That search led me to a recipe at Brown Eyed Baker.  I included a few different ingredients to mine and ended up with what you see here.  I added the M&M's so I could post it for Easter.
This popcorn is a little time consuming because you have to bake it for an hour but otherwise it is super easy.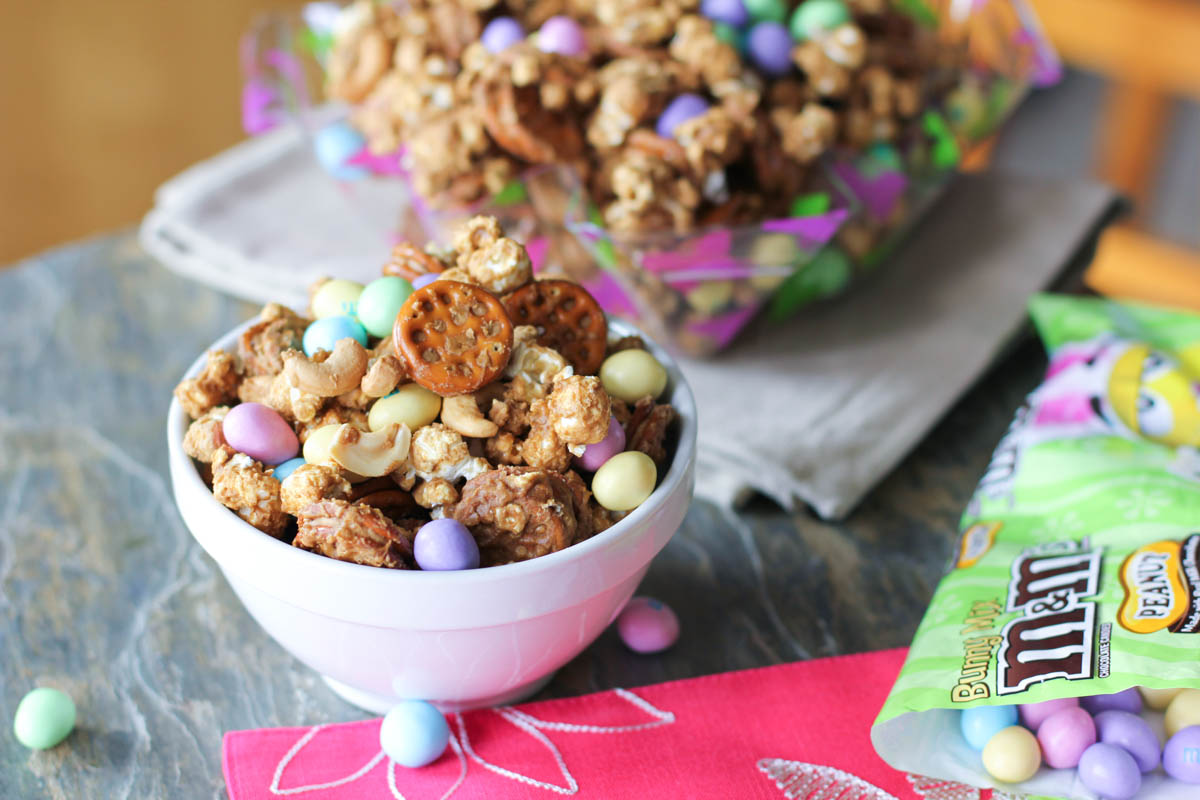 My Mom is afflicted with the same condition as me when it comes to friends and family.  We never want anyone to feel bad ever!  In our screwy efforts to try to make everyone feel good we probably enable and unintentionally hurt other people.  But that's beside the point.
Because of this affliction my brothers, sister, and I were awfully spoiled on Holidays and Easter was no exception.  At Easter we got overflowing baskets stuffed with cartons of chocolate marshmallow eggs, peeps (one of her all-time favorites), Cadbury Eggs (my favorite and one of hers), Robin Eggs, and Jelly Beans.  We also got toys in our baskets.  I believe I even got a Barbie Doll (or two) in an Easter basket over the years.  She always made sure to give my sister and I equal amounts of stuff.  She made sure my brothers all got the same items in each of their baskets.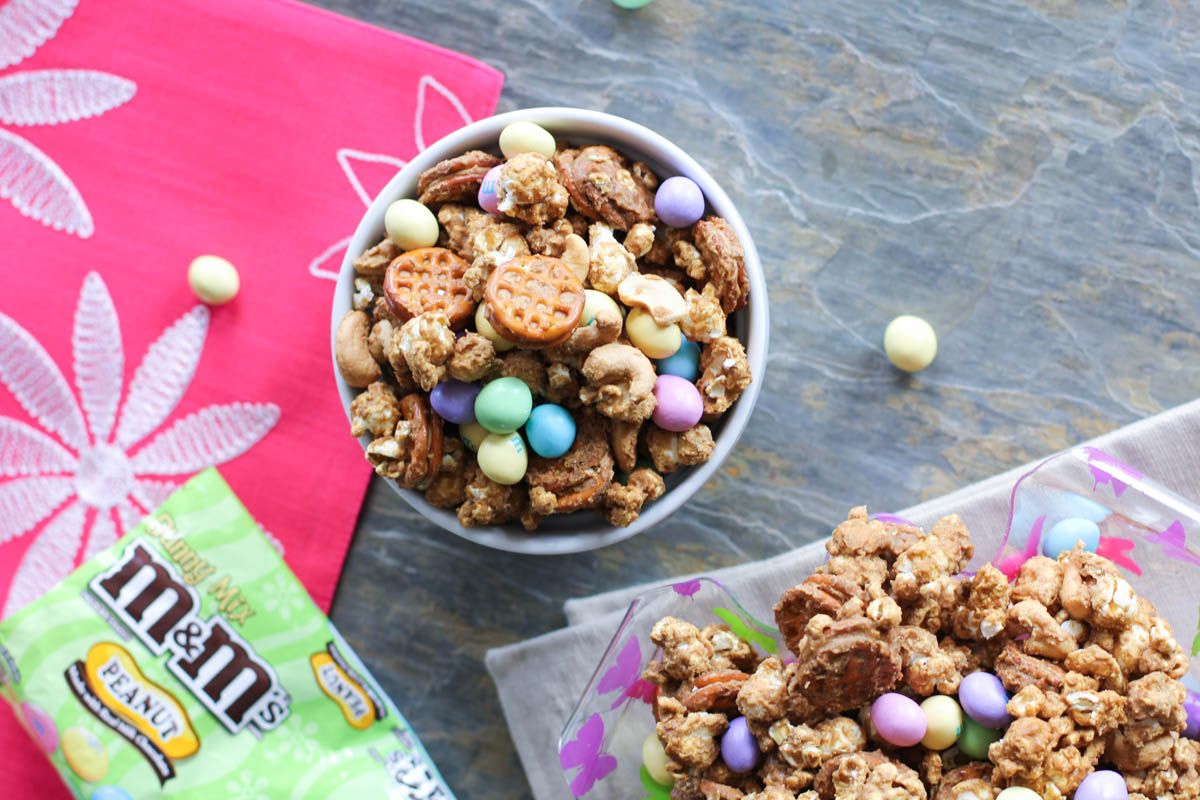 Sam's Birthday was yesterday and I was telling Ben that when I was little we would all get a present when one of us had a birthday. For example, if it was Tara's (my older sister) birthday she would get maybe five gifts and my brothers and I would each get one gift.  My mom didn't want any one of us to feel sad or left out.  It got to the point where we expected it.  I recall even making my parents a list of possible items they could get me for one of my brother's birthdays!  What a little selfish brat!
I can't speak for anyone else. But, I turned out identical to my mother in this regard.  I know you have to experience the bad in order to appreciate the good. But I hate to see my children, or anyone else's children, suffer.  It's why I choose not to watch or read any news. I can feel myself digressing.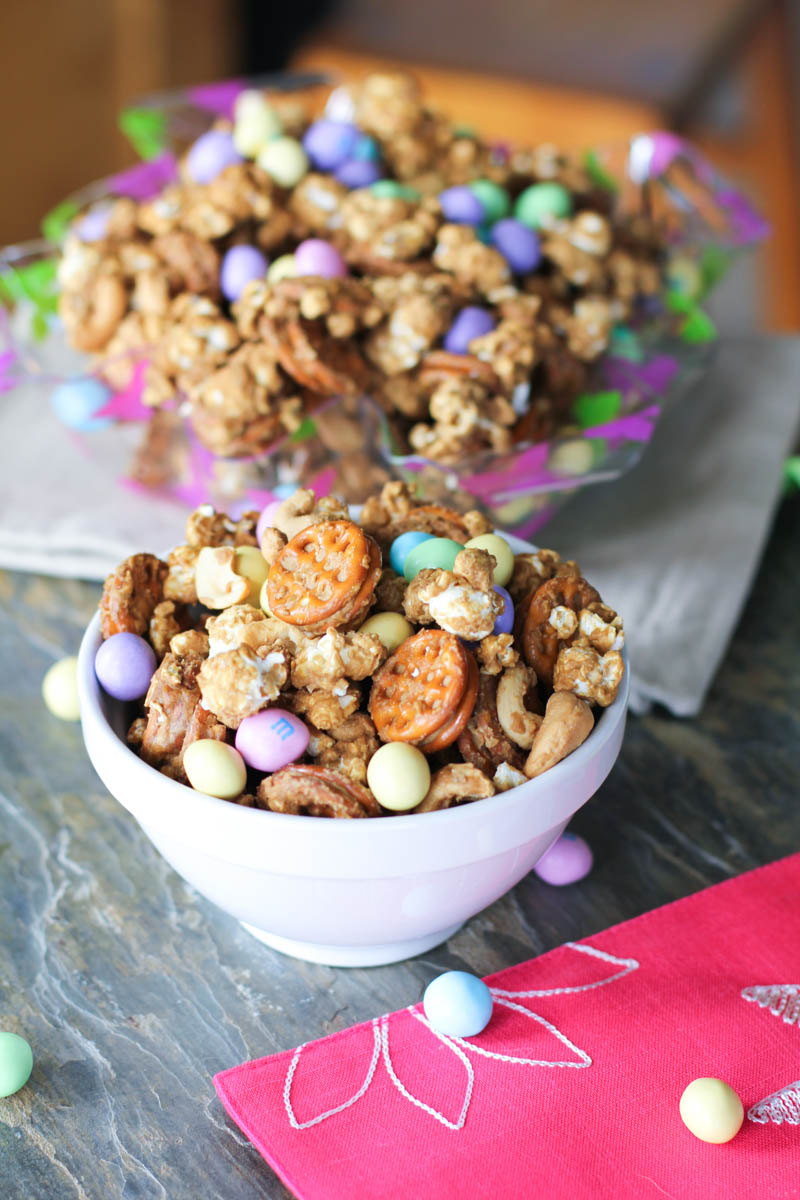 So, Happy Easter everyone!  Make this Easter Caramel Peanut Butter Popcorn and give it away to your friends and family.  Portion it out by weight and count out the M&Ms so everyone gets EXACTLY the same amount and no one feels BAD!!!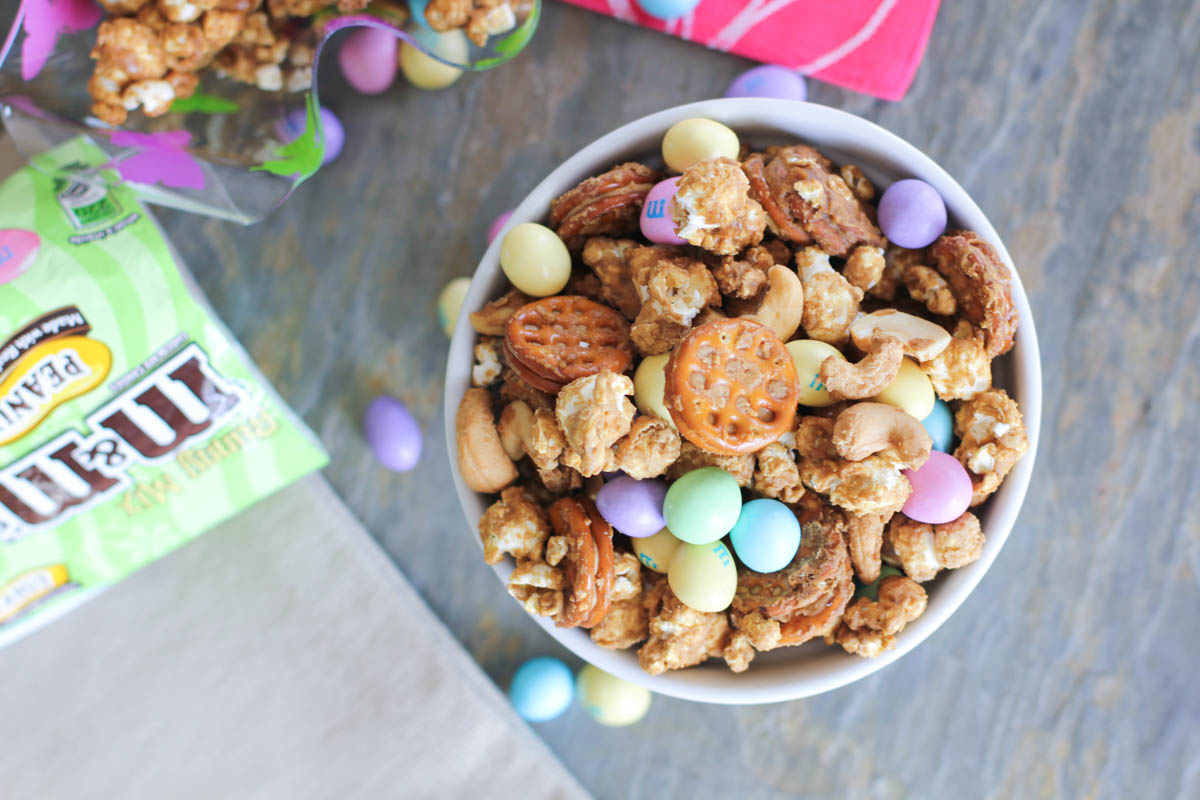 Easter Caramel Peanut Butter Popcorn
Ingredients
8 cups of freshly-popped popcorn
1 cup dark brown sugar
¼ cup light corn syrup
3 Tbsp. Unsalted butter
3 Tbsp. natural peanut butter
2 tablespoons water
¼ teaspoon salt
2 tsp. vanilla
½ teaspoon baking soda
8 to 10 oz. roasted and salted cashews
8 to 10 oz. bag peanut butter pretzels
1-12.6 oz. bag peanut M&MS (Easter)
Instructions
Preheat your oven to 250 degrees F.
Line a cookie sheet with parchment.
In a medium sauce pan combine the brown sugar, corn syrup, butter, peanut butter, water, and salt.
Keep stirring mixture, over medium high heat, until mixture comes to a boil and then reaches 250 degrees with a candy thermometer.
This will take about five minutes (incase you don't have a candy thermometer).
Remove mixture from heat and add the vanilla and baking soda (note: the mixture will begin to foam up) stir until the ingredients are well incorporated.
Coat the inside of a large mixing bowl with plain cooking spray.
Add the popcorn, pretzels, and cashews to the bowl.
Pour the sugar mixture over the popcorn mixture a little at a time.
Stir after each addition until everything is coated evenly.
Be super careful with the sugar mixture it will remain nuclear throughout the entire coating process.
Spread the popcorn mixture evenly over the parchment lined pan.
Bake for 1 hour.
Remove from oven and let cool completely.
When the popcorn is completely cooled transfer to a large mixing bowl, break into smaller even pieces with your hands.
Stir in the M&Ms, then EAT!!!
http://www.juliesjazz.com/easter-caramel-peanut-butter-popcorn/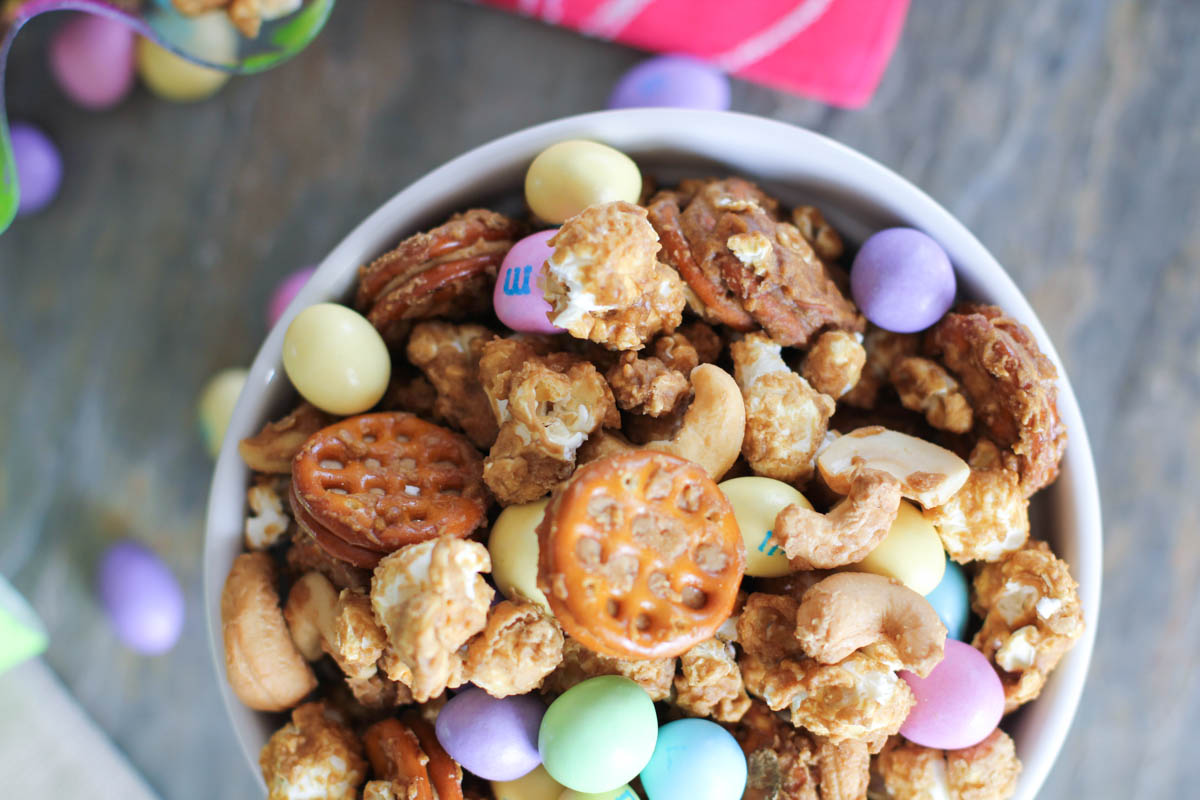 P.S. This popcorn is suitable for any Holiday.  Just change out the colors M&Ms. Pink, red, and white for Valentine's.  Red, green, and white for Christmas. You get my drift, right?
{ 1 comment }