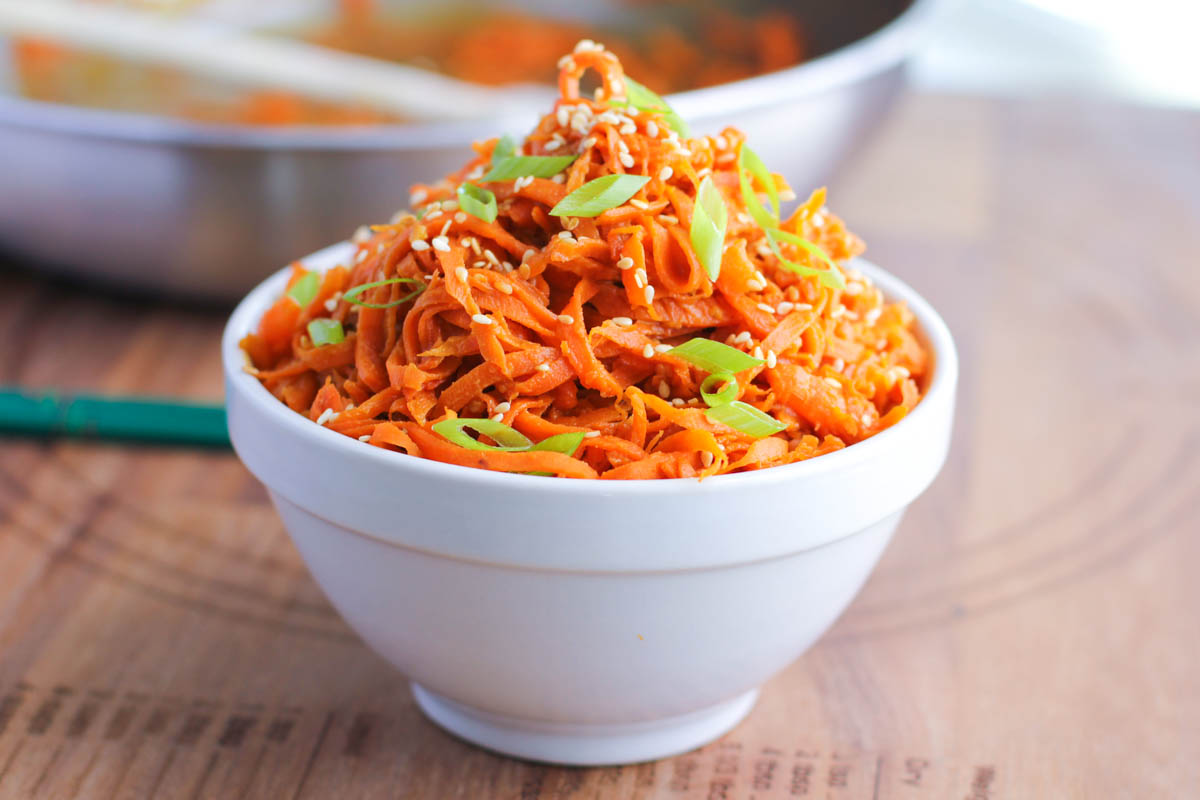 I went to Target yesterday to pick up bath products.  I always think it will be less expensive to buy antiperspirant and and body wash there instead of at the grocery store.  But, two tank tops, two tee-shirts, and one sports bra later that $5 savings turned into a $50 splurge.  I feel like I'll never learn!
But I do love Target! I wish we had a Super Target.  And, while I'm wishing, add Whole Foods and Trader Joe's to that list.  I think if I had those 3 stores within a 30 mile radius of my home I would never have to drive more than thirty miles ever again!  I seriously buy most of my clothes at Target.  If I were a little more flush I may add Title Nine to my short list of regular places to shop for apparel.  But it's hard for me to spend more than $30 on a pair of jeans when I regularly spend over $10 for a pound of cheese. Priorities!!!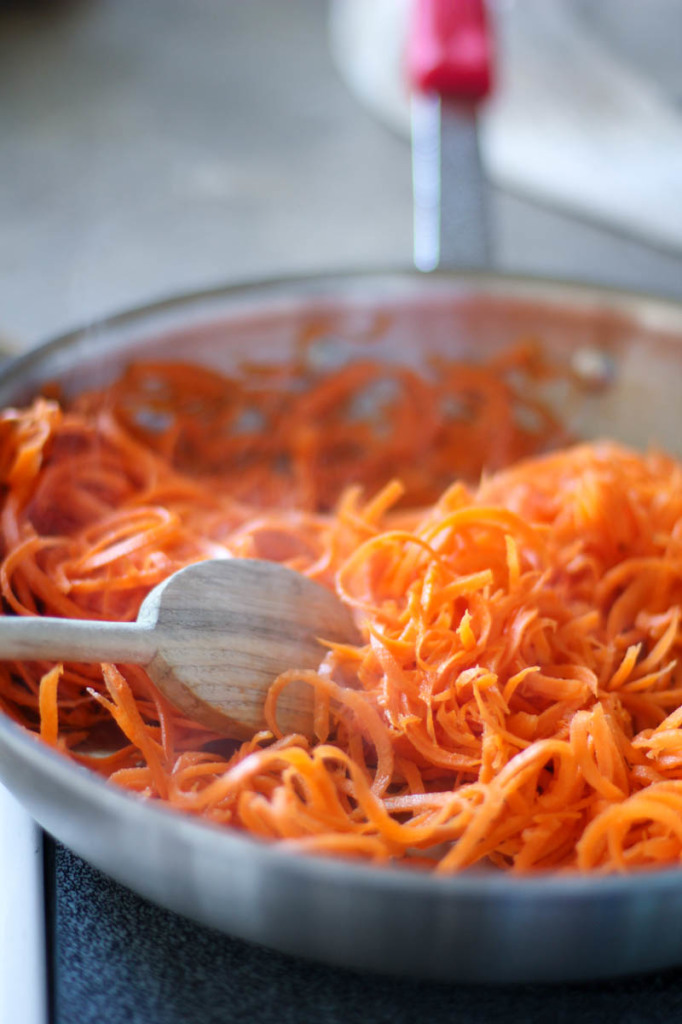 And, speaking of priorities.  Most people who know me know I'm a peanut butter lover.  If I only got 10 foods to choose to eat for the rest of my life peanut butter would be on that list for sure!  Every time I go down the peanut butter isle at the grocery store I spot the PB2.
I finally bought some the other day.  My idea was to cook with it.  So far I've put it in protein bars and these spicy peanut carrot noodles.  I don't know about mixing it with water and spreading it on bread but it's aroma and flavor in cooked recipes is phenomenal!
Buy some, make this sauce, put it on sprialized carrots (or whatever vehicle you choose).  You'll be in love with the flavor!
Spicy Peanut Carrot Noodles
Ingredients
10 oz. (284 g) carrots (spiralized)
2 Tbsp. water
2 Tbsp. (12 g) PB2
2 Tbsp. soy sauce
2 Tbsp. seasoned rice vinegar
1 Tbsp. honey
1 Tbsp. Splenda
1 tsp. chili garlic sauce
1 tsp. sesame oil
12 tsp. ground ginger
1 tsp. garlic (minced)
¼ cup chopped fresh scallions (for topping)
1 tsp. toasted sesame seeds (for topping)
cooking spray
Instructions
1. Over medium high heat, in a large frying pan (coated with cooking spray), sauté the (sprialized/shredded) carrots for 3 to 5 minutes.
2. Add a little salt and pepper.
3. In a small mixing bowl whisk together the water, PB2, soy sauce, vinegar, honey, Splenda, chili garlic sauce, sesame oil, ginger, and garlic.
4. Add the sauce mixture to your carrots.
5. Stir everything over the medium-low heat until carrots are coated and the sauce thickens a little (~3 to 5 minutes).
6. Plate, top with sesame seeds and scallions, and EAT!!!
7. Makes 1 to 2 servings.
8. note: I purchased a ]device that will cut vegetables into long noodle-like strips|http://www.amazon.com/Native-Spring-Spiral-Vegetable-Slicer/dp/B00GHA3S4C/ref=sr_1_3?ie=UTF8&qid=1405814926&sr=8-3&keywords=vegetable+spiralizer]. If you don't have one of these you could use a cheese grater or knife. It will taste the same (yummy!) no matter how you slice your carrots.
http://www.juliesjazz.com/spicy-peanut-carrot-noodles/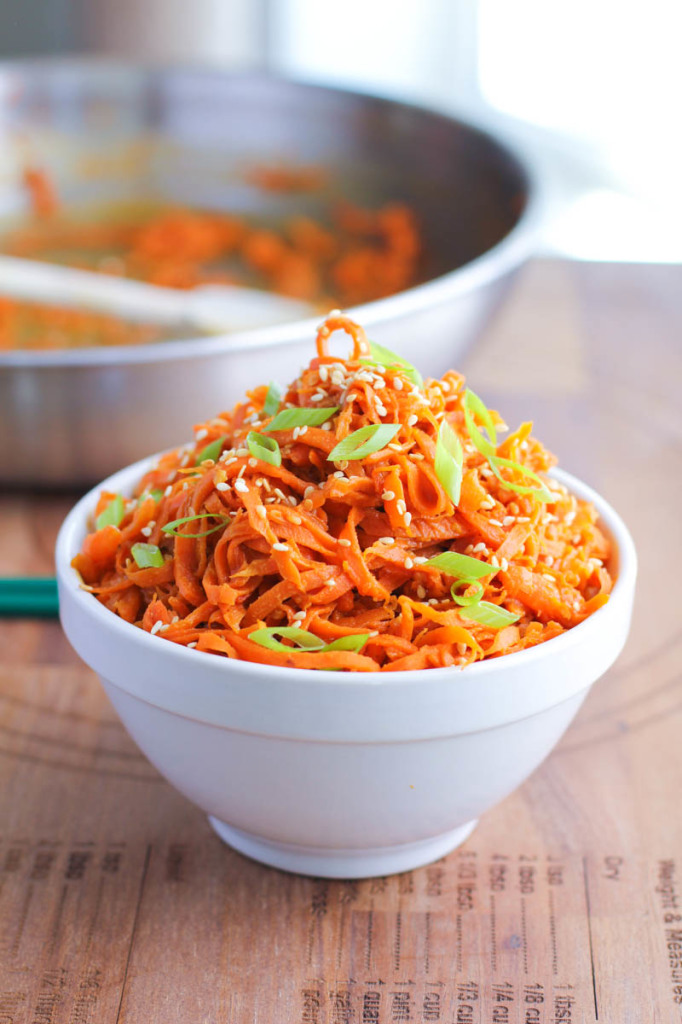 { 0 comments }