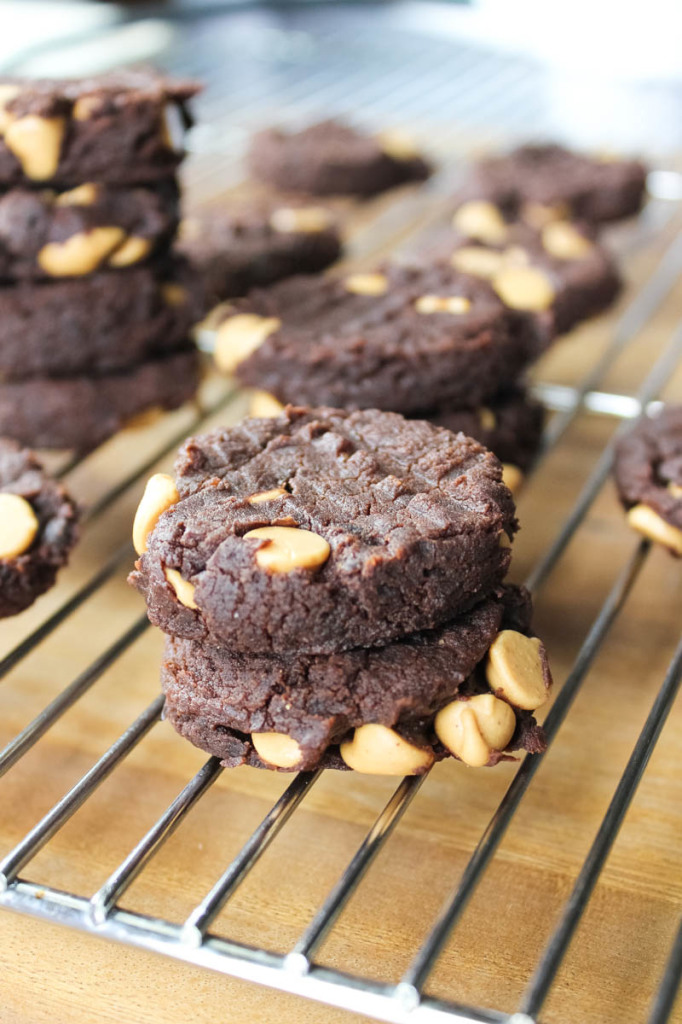 It's been another crazy weekend!  I didn't get Sam's room done because the basement flooded. But, I did work on it.  By next Sunday it will be DONE!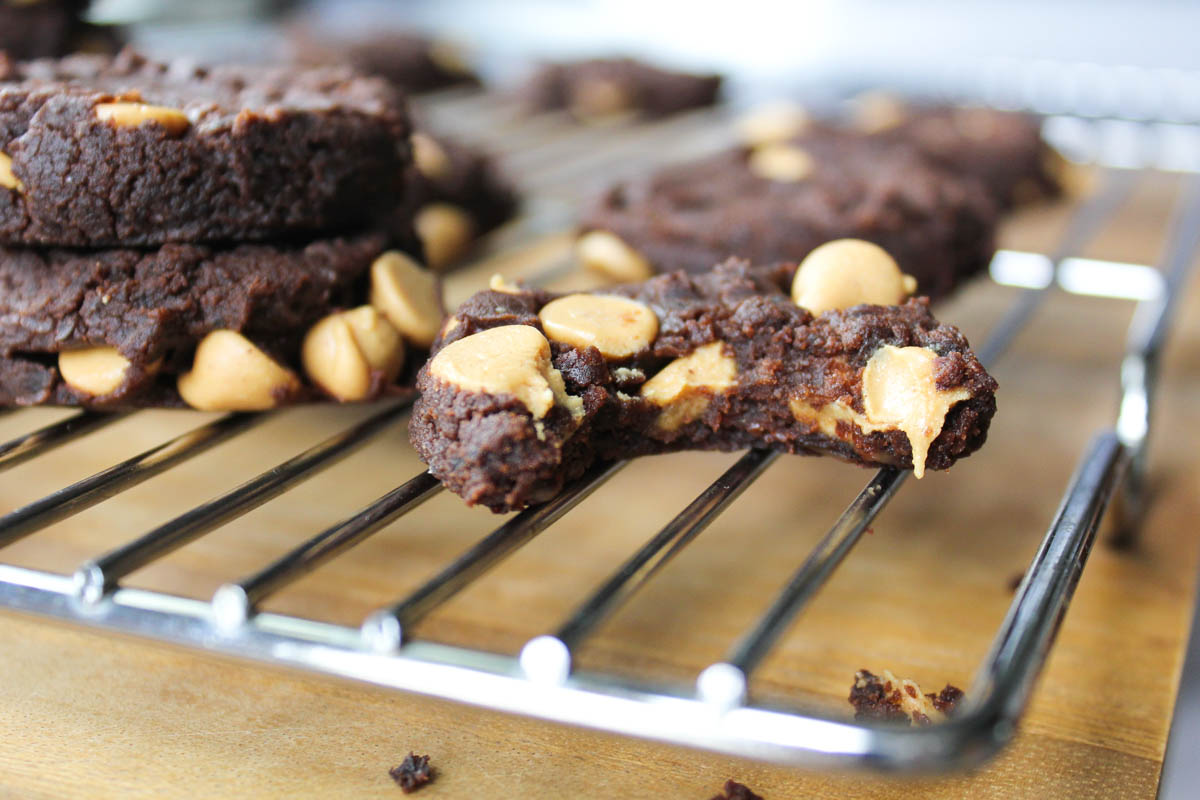 I'm now completely convinced that basements should not have carpet in them!  I'm so sick of this flooding game.  This time it flooded because our idiot dogs mauled the rain gutter and effectively tore it from the house.  So all of the rain we had on Friday went straight into the window well.  The pump was overwhelmed!  I purchased most of the items to fix it yesterday but am missing 2 items so it's back to Home Depot today! YAY!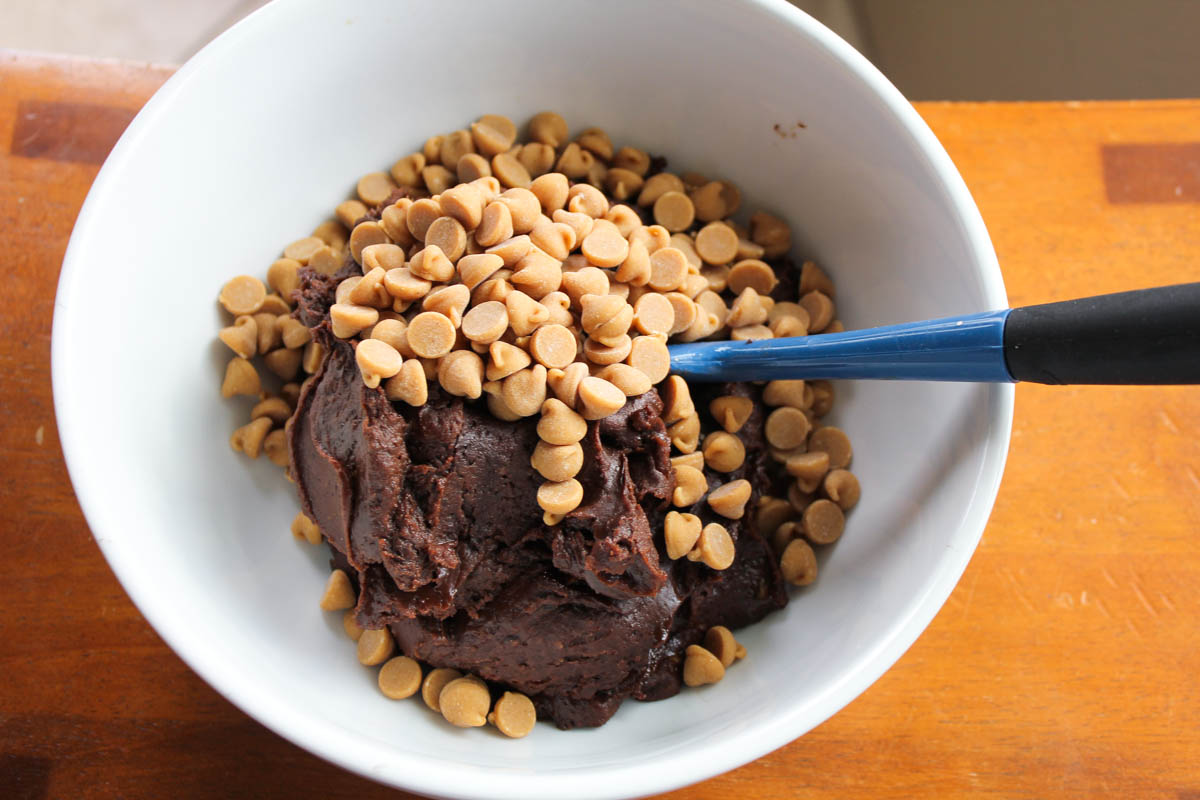 Also the carpet is going away so I have that to do as well.  Other than that it's been a great weekend!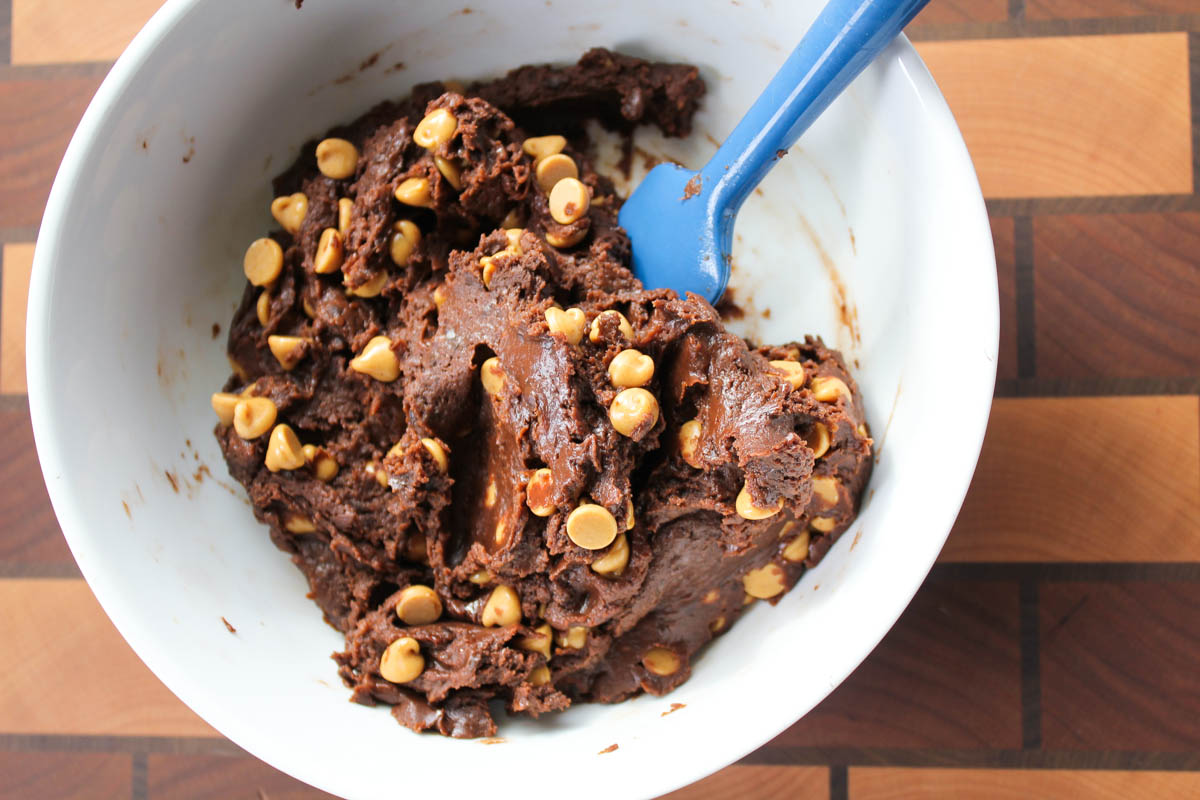 Enough about this dang house!  At least we have a home! And, in the scheme of the worlds problems (as my Mama would say) it's really not that big of deal.  This is a really good life!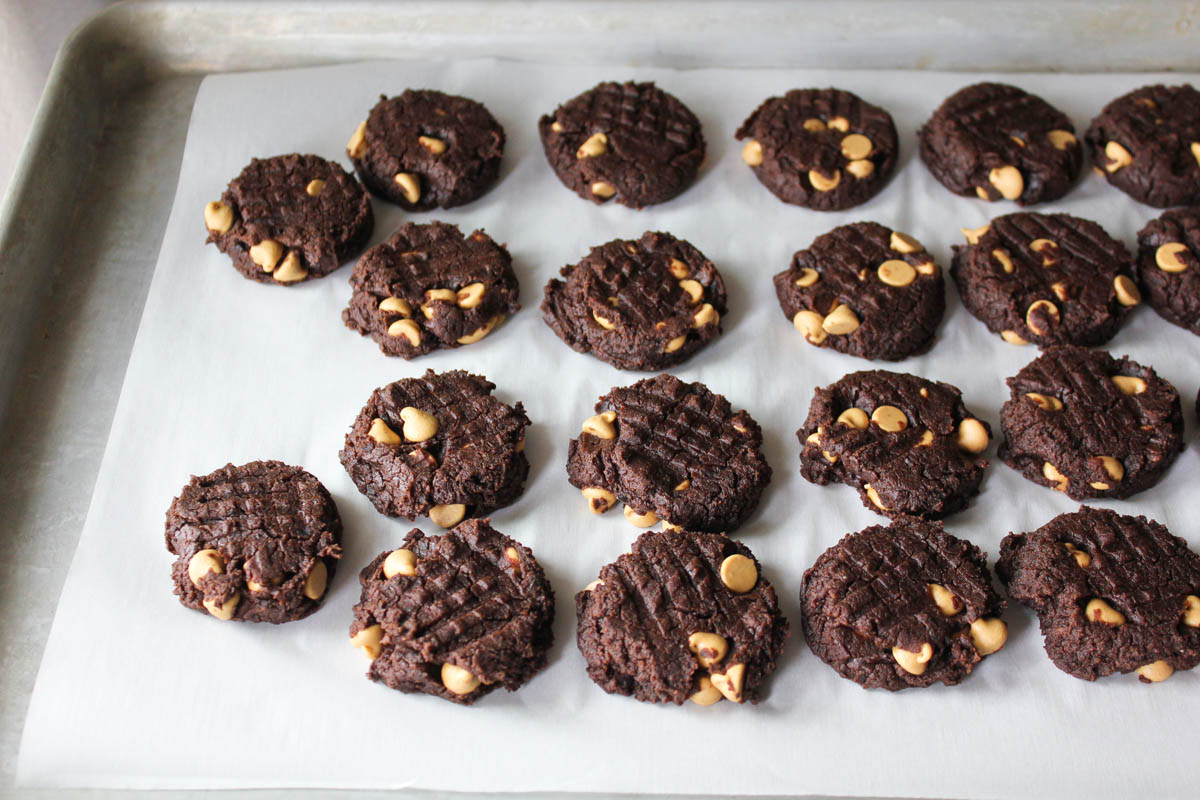 And these are some seriously amazing Peanut Butter Chocolate Brownie Batter Bites or cookies if you want to call them cookies!  They taste just like under-cooked brownies! I'm in love with them! And they're actually relatively good for you!  There's no flour, no oil, and no sugar. All the ingredients (except the peanut butter chips) are whole and natural.  That's moderation.  A little, of an indulgent ingredient, goes a long way!  If you like gooey brownies, I promise, you'll love these!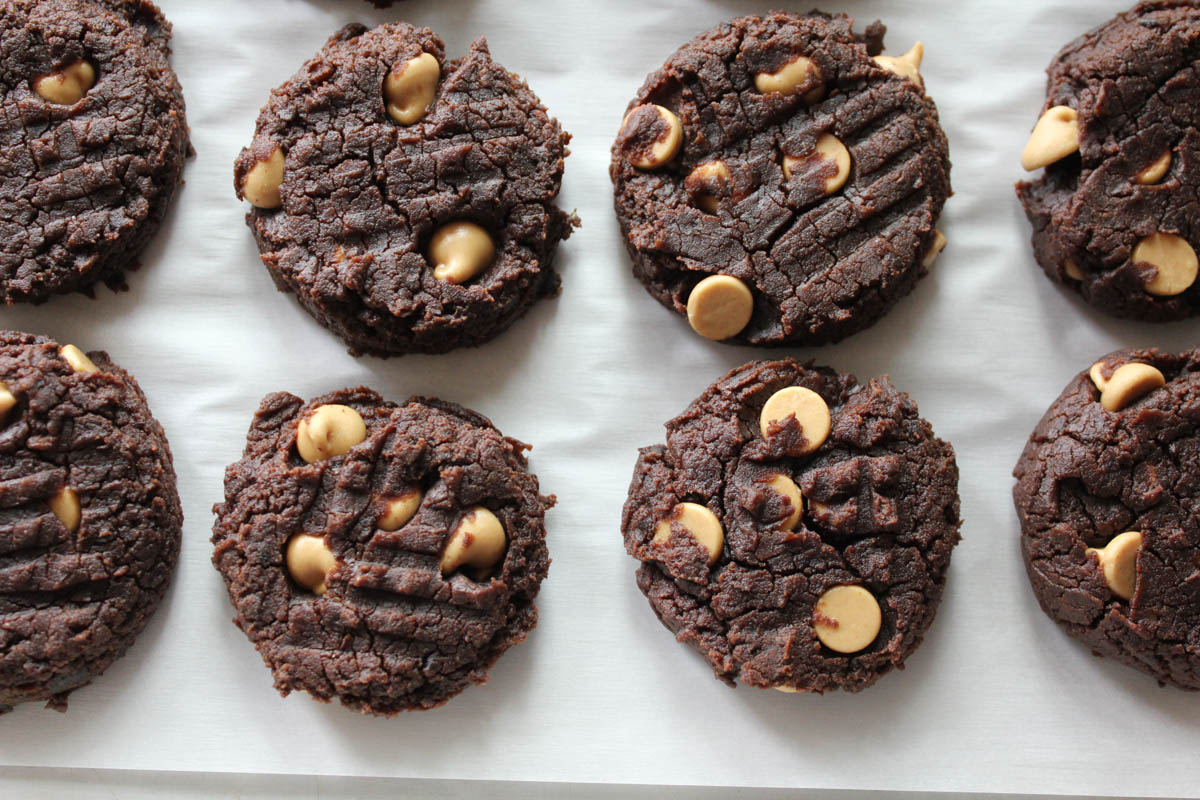 Peanut Butter Chocolate Brownie Batter Bites
Ingredients
1¼ cups (~8.3 oz. or 235 g after draining) canned black beans well-rinsed and patted dry with a paper towel
2 teaspoons vanilla extract
½ cup + 2 tablespoons (165 grams) natural peanut butter
¼ cup (80 grams) honey
1 teaspoon baking powder
1/8 tsp. kosher salt
4 Tbsp. (20 g) cocoa
½ cup (112 g) peanut butter chips
Instructions
Preheat your oven to 350°F.
Line a cookie sheet with parchment.
Combine all your ingredients, except for the peanut butter chips, in a large food processor and process until smooth.
Transfer the processed dough to medium mixing bowl.
The mixture will be similar to regular cookie dough (thick and sticky).
Stir in the peanut butter chips.
Using a small cookie dough scoop. Scoop the dough onto the parchment lined pan.
One pan should be enough for all the cookies since they don't rise or spread out much.
I took a fork and smashed them down a little so they would look like a regular cookie. (otherwise they will stay pretty much how they are when you stick them in the oven)
Bake for about 10 minutes.
The cookies will be very soft and will not set like an average cookie.
They will have a consistency similar to an under cooked brownie. I'm OK with that!
I stored mine in the fridge in an airtight container.
They'll probably last a week like that. But mine didn't last long enough to find out!
I like to warm them in the microwave for about 5 to 10 seconds before I eat them!
http://www.juliesjazz.com/peanut-butter-chocolate-brownie-batter-bites/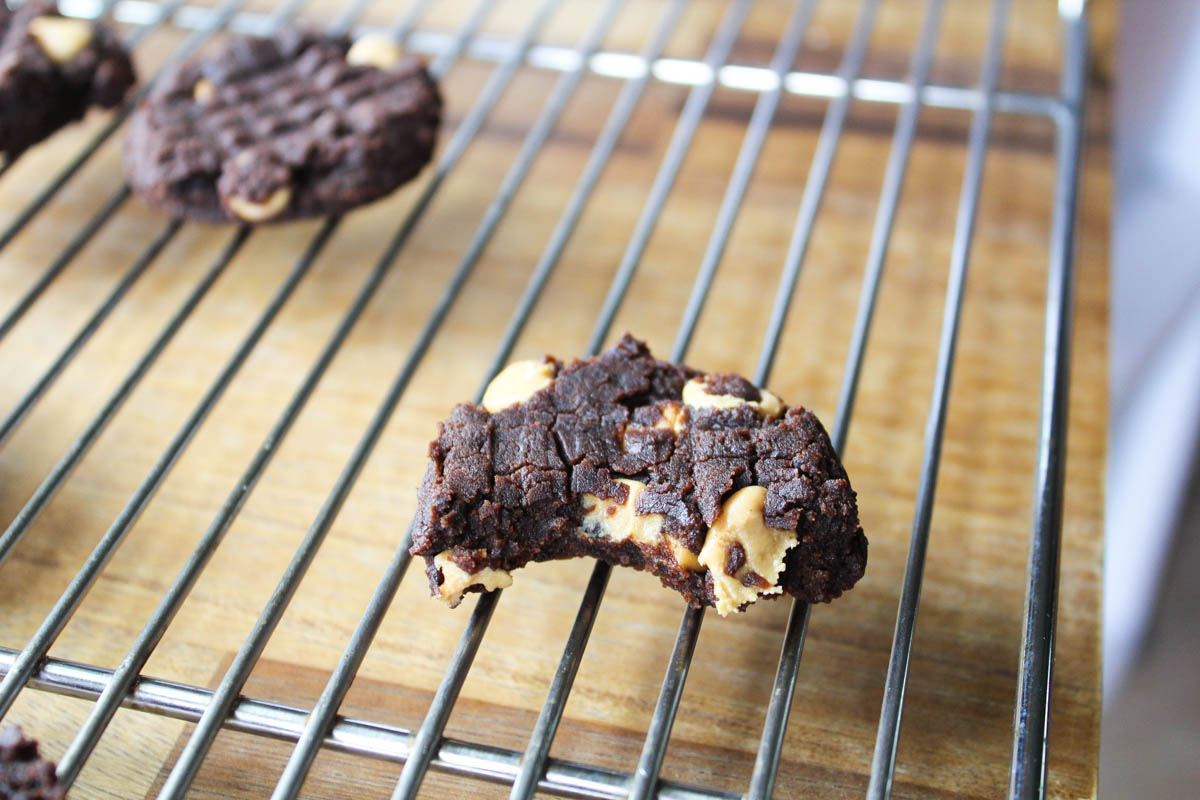 { 1 comment }