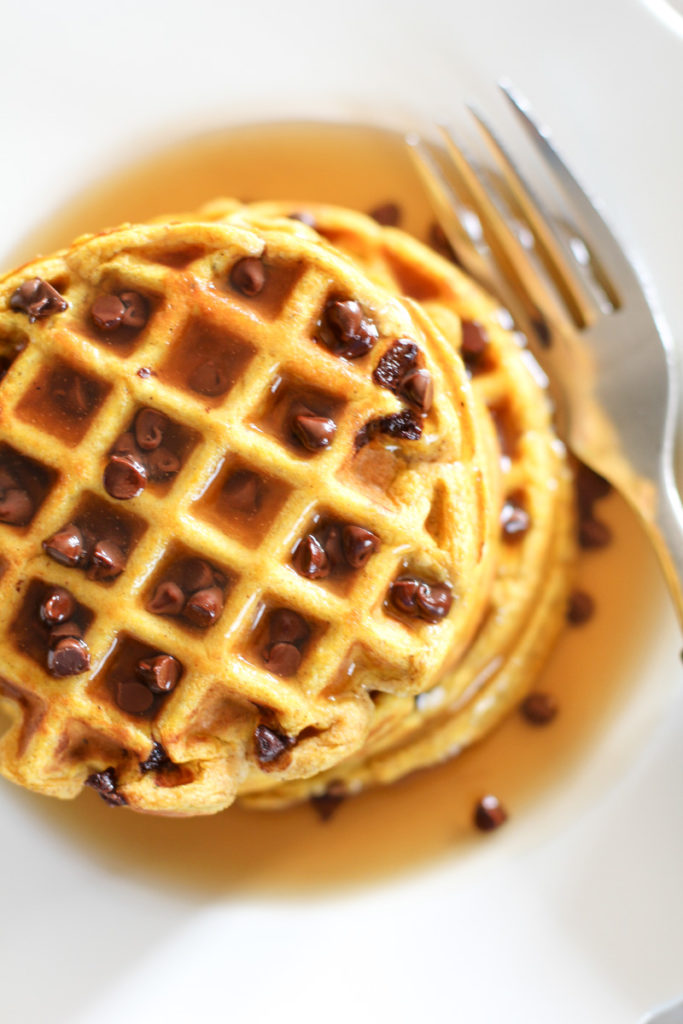 I've got protein waffle issues. Just take one look at my Instagram.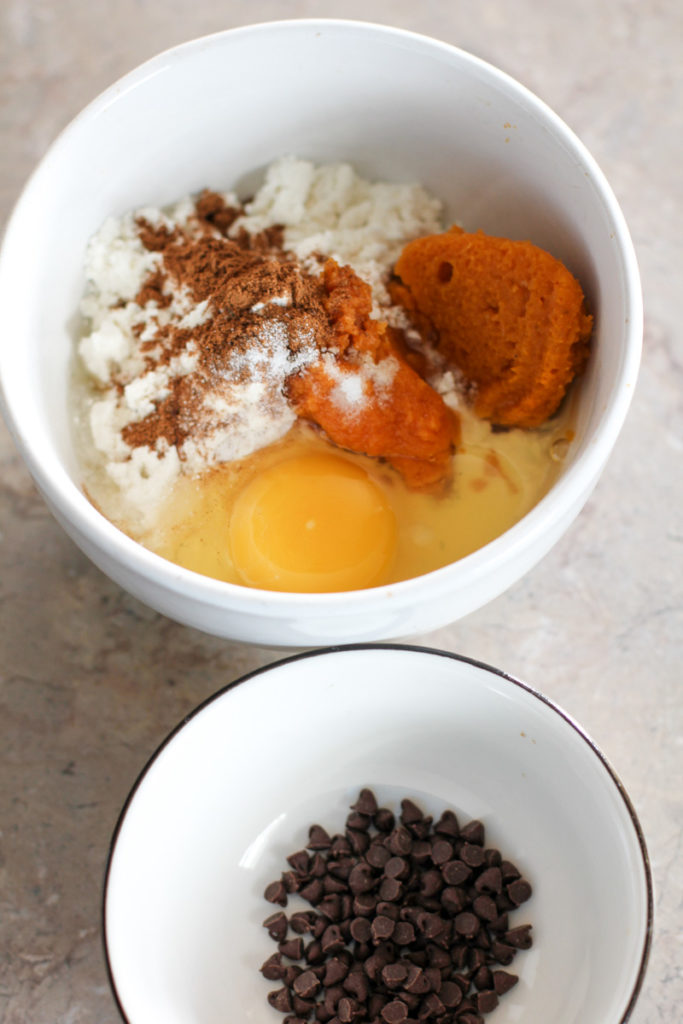 This year I've jumped on the pumpkin spice bandwagon.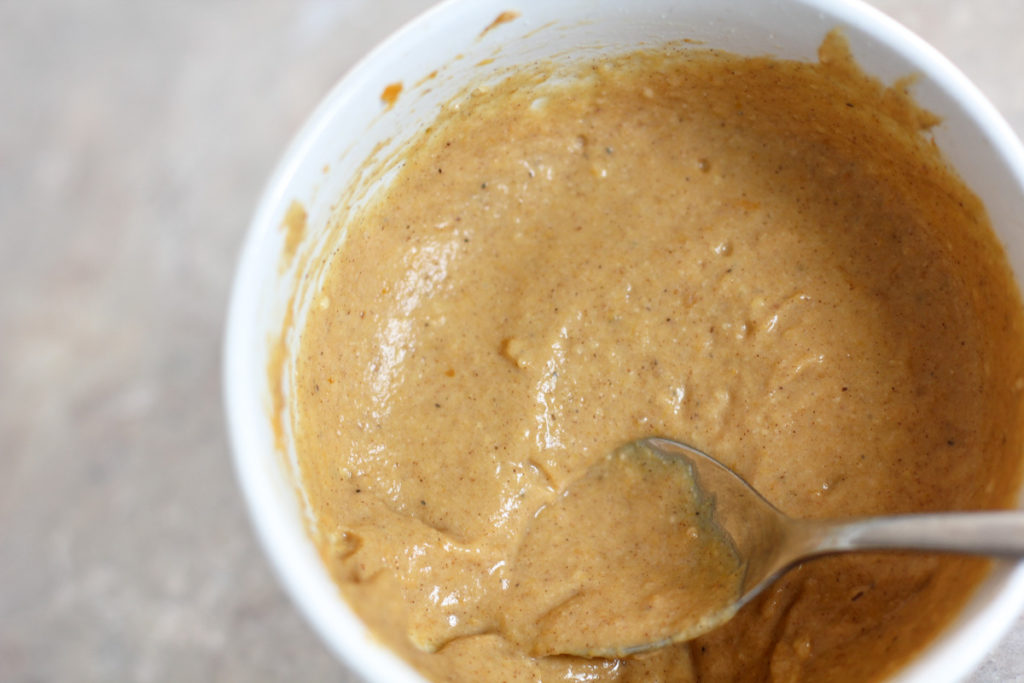 I've always been a huge fan! But, last year, I didn't have any pumpkin spice anything! I was in prep for a figure competition.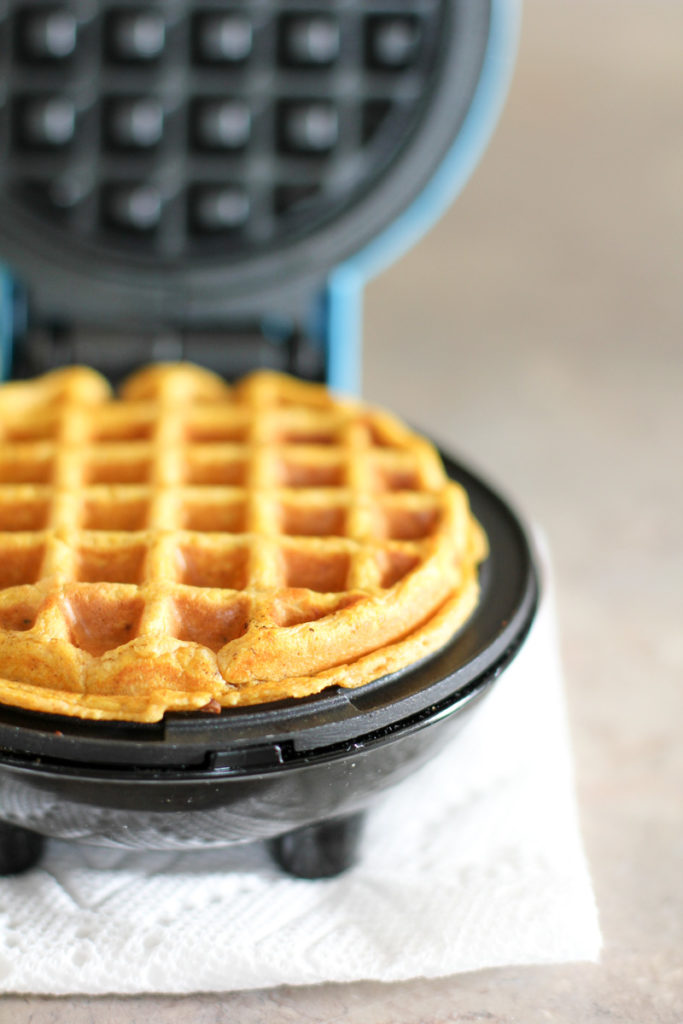 I'm in prep again this year. But, I didn't want to miss out on pumpkin spice. I bought a small tin of the stuff, and I've been sprinkling it over everything I eat!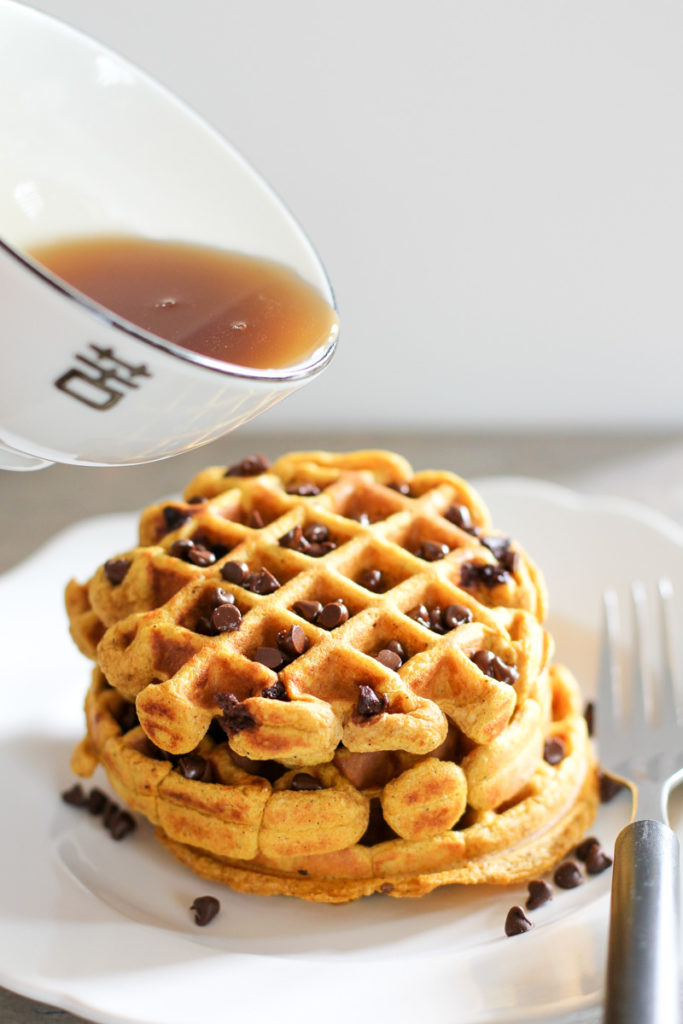 That's not true. Not everything.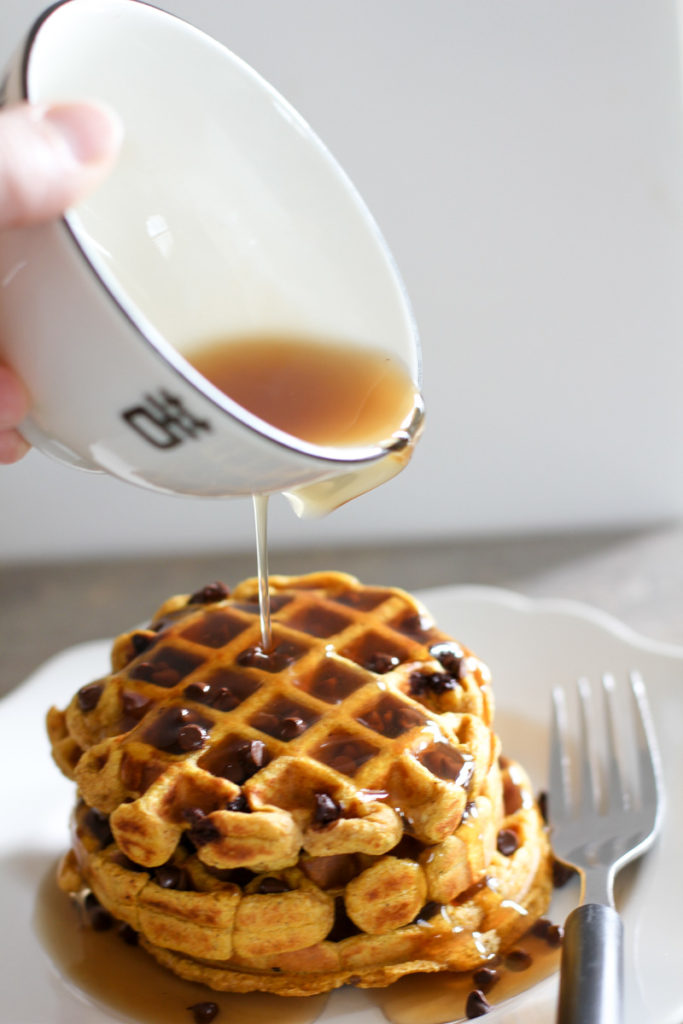 But, definitely all things breakfast! It's perfect sprinkled over oats, in yogurt, and in waffle batter!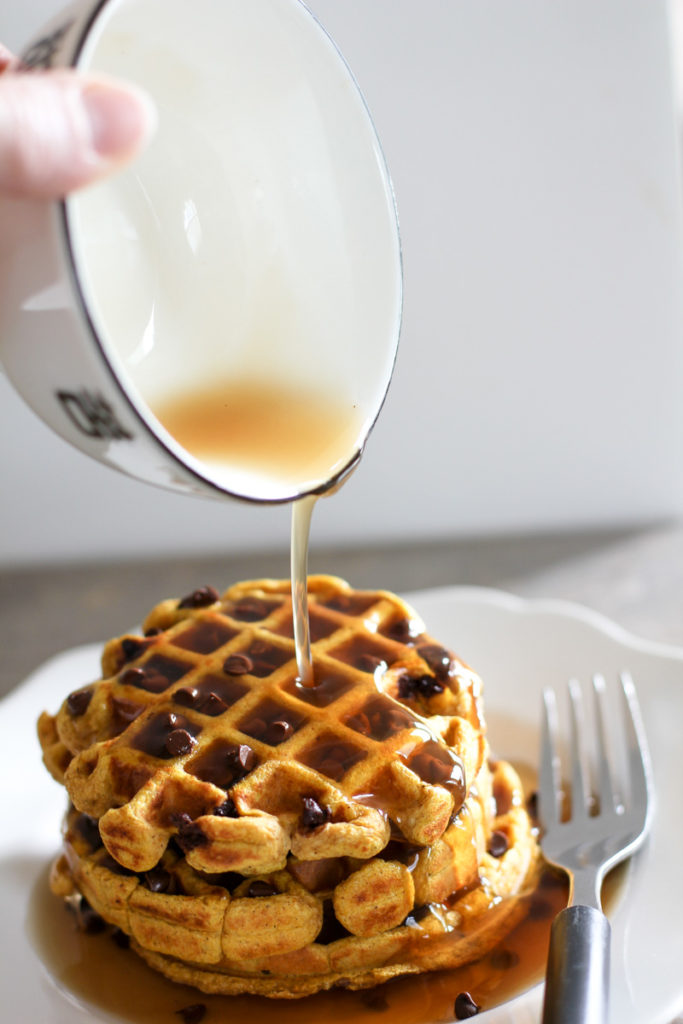 Pumpkin Pie Chocolate Chip Waffles For One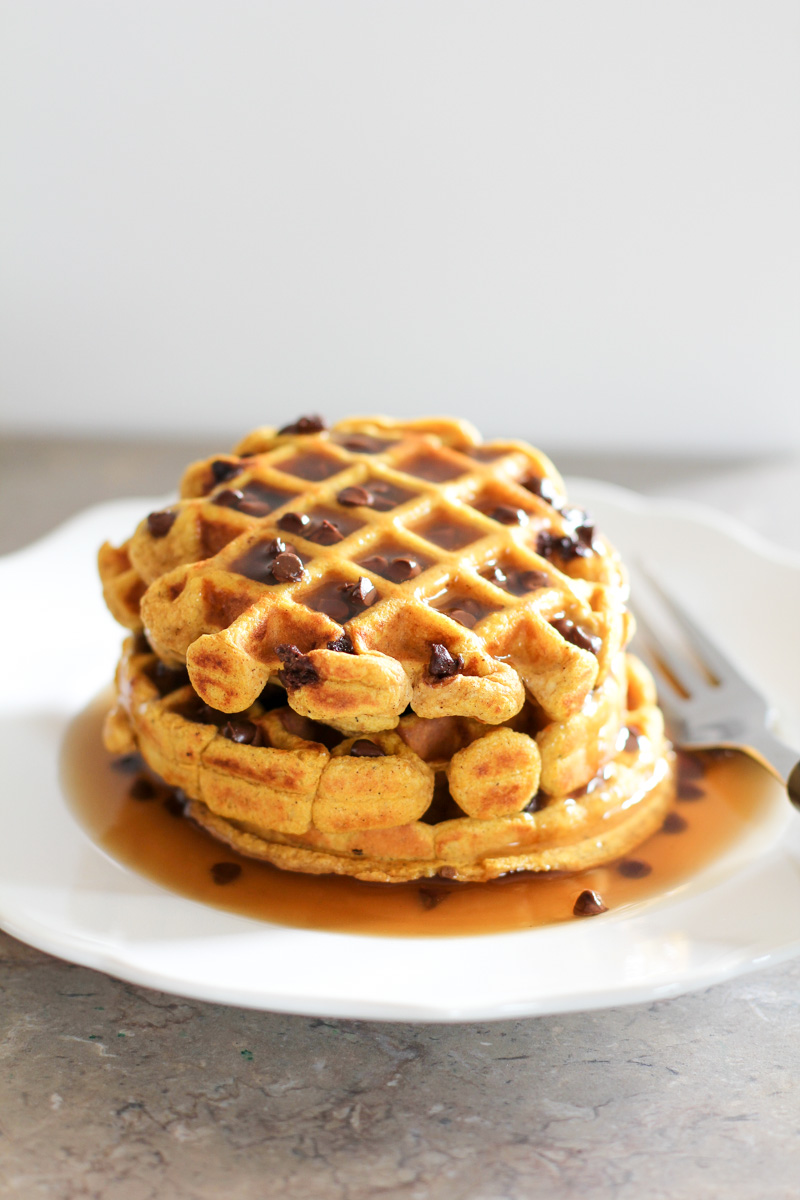 This recipe is for one serving. The size of your waffle maker will determine how many waffles. For this recipe I used a mini waffle maker. I get 3.5 waffles using it. A large waffle maker will yield 1 to 2 waffles.
Yields: 1 serving
15 g Protein Pancake Mix (I used Kodiak Cakes)
35 g vanilla protein powder (I used Pro Jym Tahitian Vanilla Bean)
61 g canned pumpkin puree
0.5 tsp. pumpkin pie spice
0.5 tsp. stevia
1 whole large egg
3 Tbsp. water
12 g mini chocolate chips
cooking spray (to coat the waffle iron)
Heat your waffle iron to maximum heat.
Combine all ingredients (except chocolate chips) in a medium mixing bowl.
Stir until well combined.
Coat heated waffle iron with cooking spray.
Pour waffle batter into the center of the iron.
Close iron over batter and cook for 2 to 2.5 minutes.
Preparation time:

5 minutes

Cook time:

2 to 10 minutes

Total time:

15 minutes
Nutrition
Calories:

358

Fat:

12.7 grams

Carbs:

26.5 grams

Protein:

34.5 grams