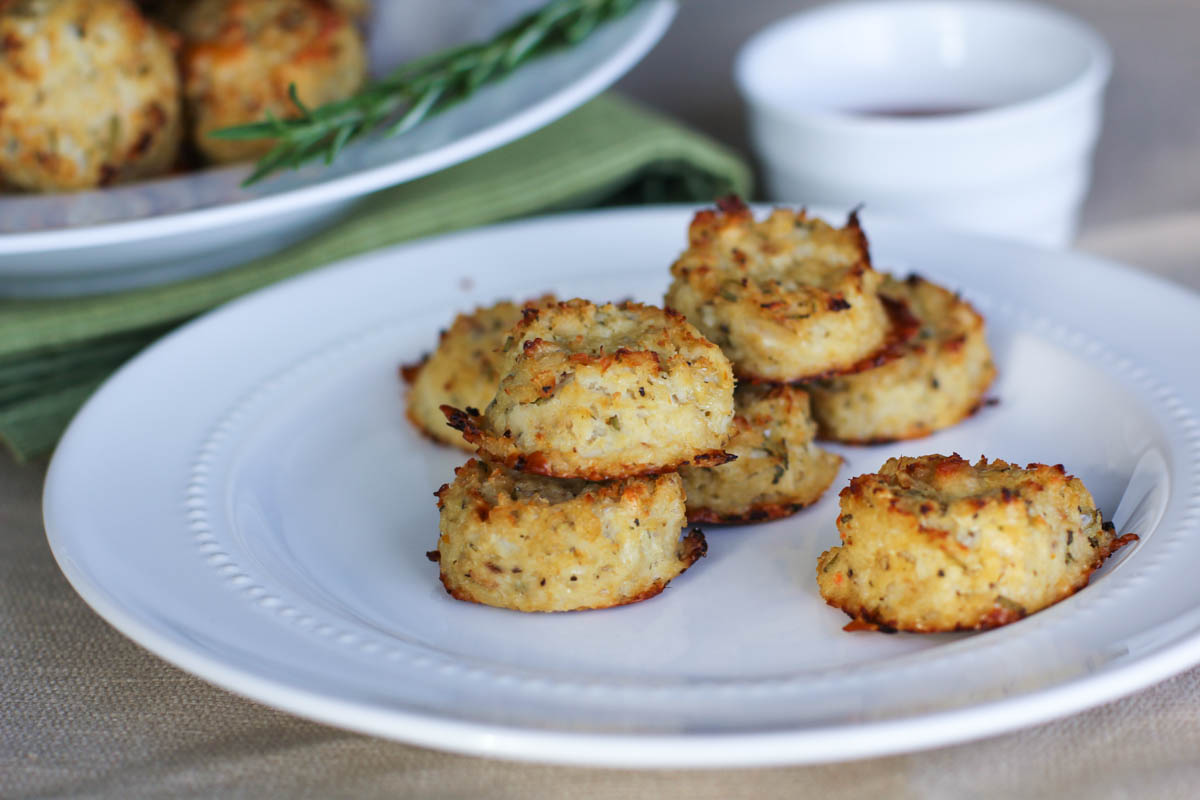 Yesterday, or the day before, my brother posted this on Facebook:
"Juliana Walters posted a article titled '30 questions to ask yourself before you die' and it got me thinking. I wonder if my hetero counterparts have ever assessed themselves as a potential partner for themselves. I and many of my homo friends have honestly looked at ones self as if looking at a potential mate. (I do this in the mirror often) I look at myself and think "would I date him?" Most of the time I like the guy I see and (I'm not trying to convey narcissism) wish I could get into the mirror. But once in a great while I have disgust and fail to make lasting eye contact with him. This game often leads to a fantasy of how easy life would be if I could pair with my carbon copy. I find this exercise is a good gauge of where I'm at as desirable person. I guess what I'm asking is: Would you be happy and comfortable with someone who resembles your current self? Just a thought."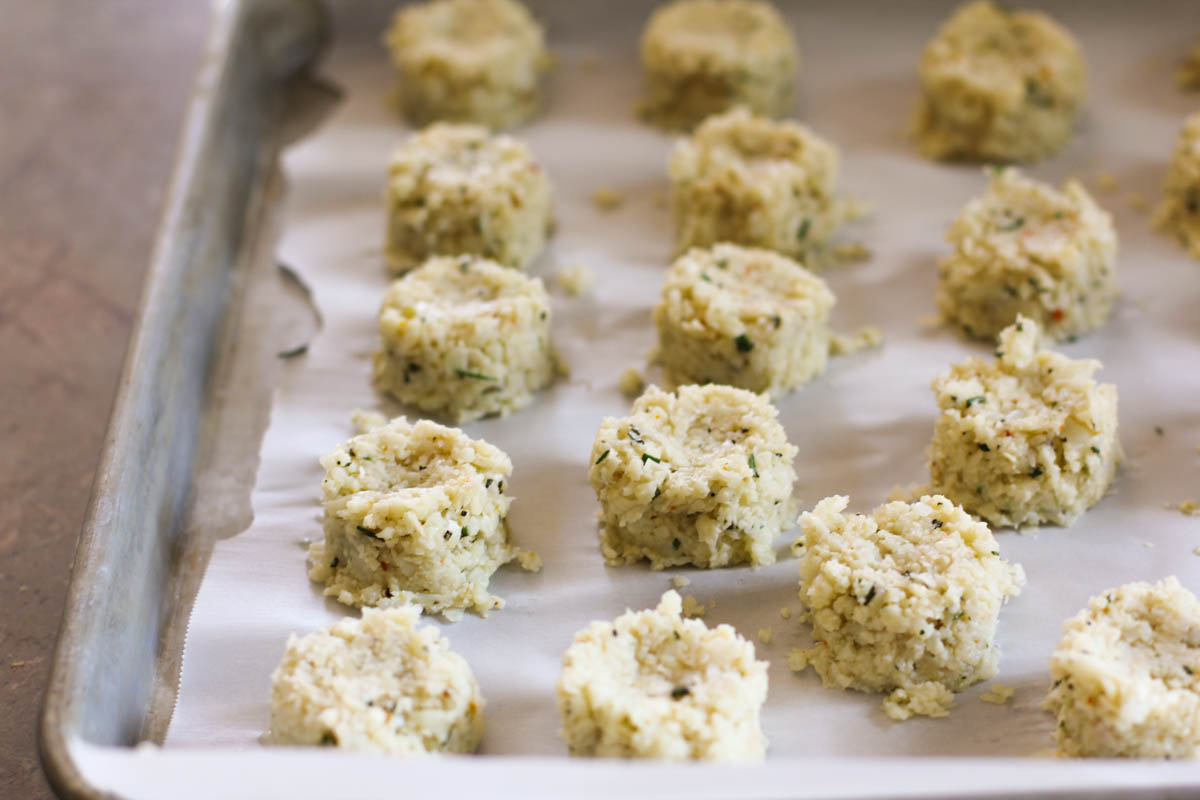 Sometimes when I read thoughts like this I can't get them out of my head. It's interesting to think about what it would be like to be with me knowing what goes on in my head.  I constantly try to maintain an awareness of how I come across to other people. I don't do this because I want people to like me.  I do this because I never want to accidentally offend people or make them feel bad.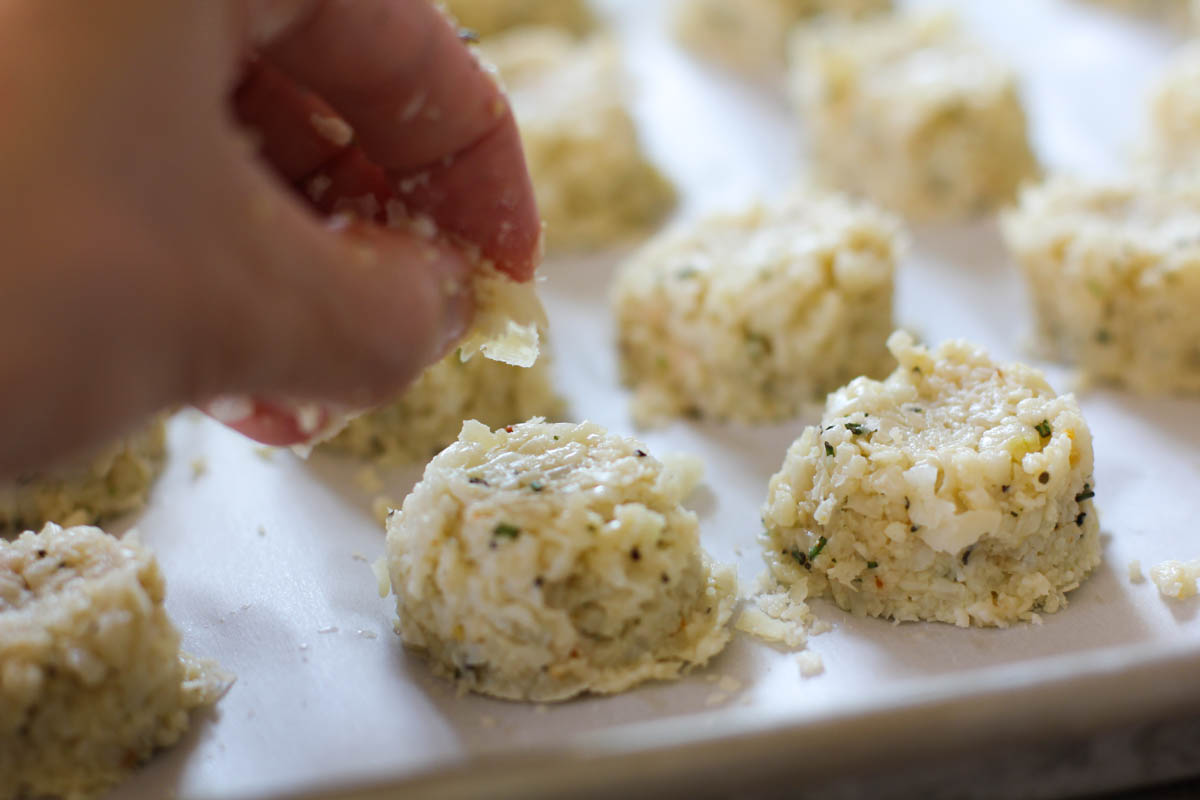 I've worked with the public in various ways throughout my life, so far, and I'm not a stranger to how awful people can be to each other.  Sometimes to a fault, I never want to make people the way some have made me feel.
Ultimately this little thought exercise made me think about the way I come across to the people closest to me.  If I look in the mirror and think, "I wouldn't want to be with me."  Then I better figure out why, for my sake, and the sake of the people who live with me.  Thanks for the thought exercise Brad!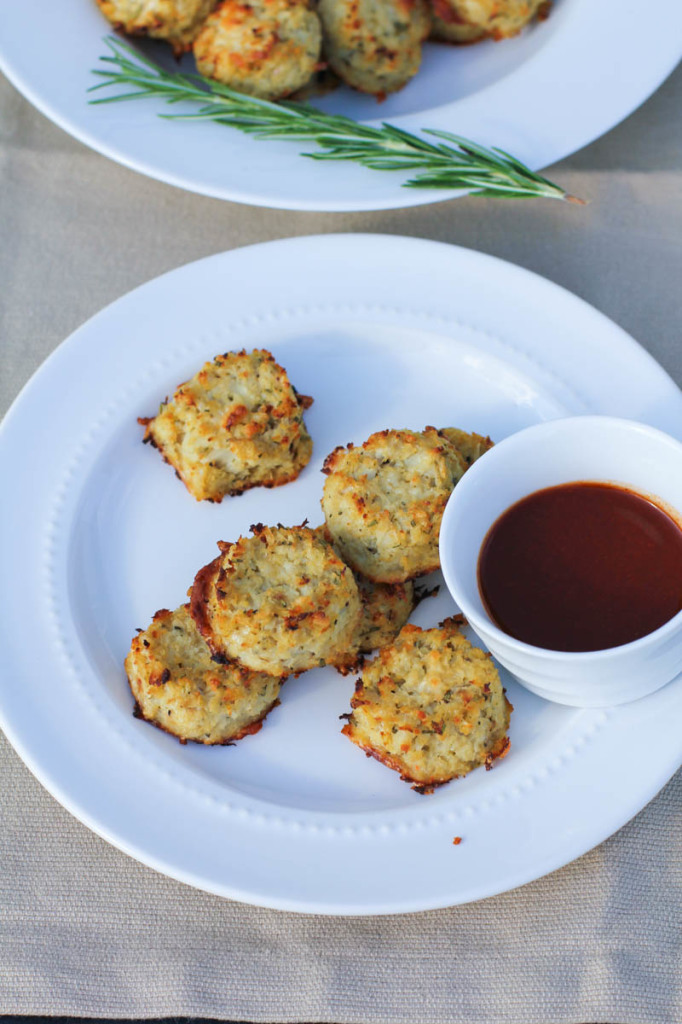 Apparently I'm obsessed with cauliflower and it's versatility.  Since the beginning of Spring I've crossed over into this healthy living thing that I can't seem to shake cause I feel good and I'm having a lot of fun trying to make super healthy  and low calorie food taste fabulous!  There are so many amazing healthy blogs out there I feel like such a novice poser.  But, I have to start somewhere.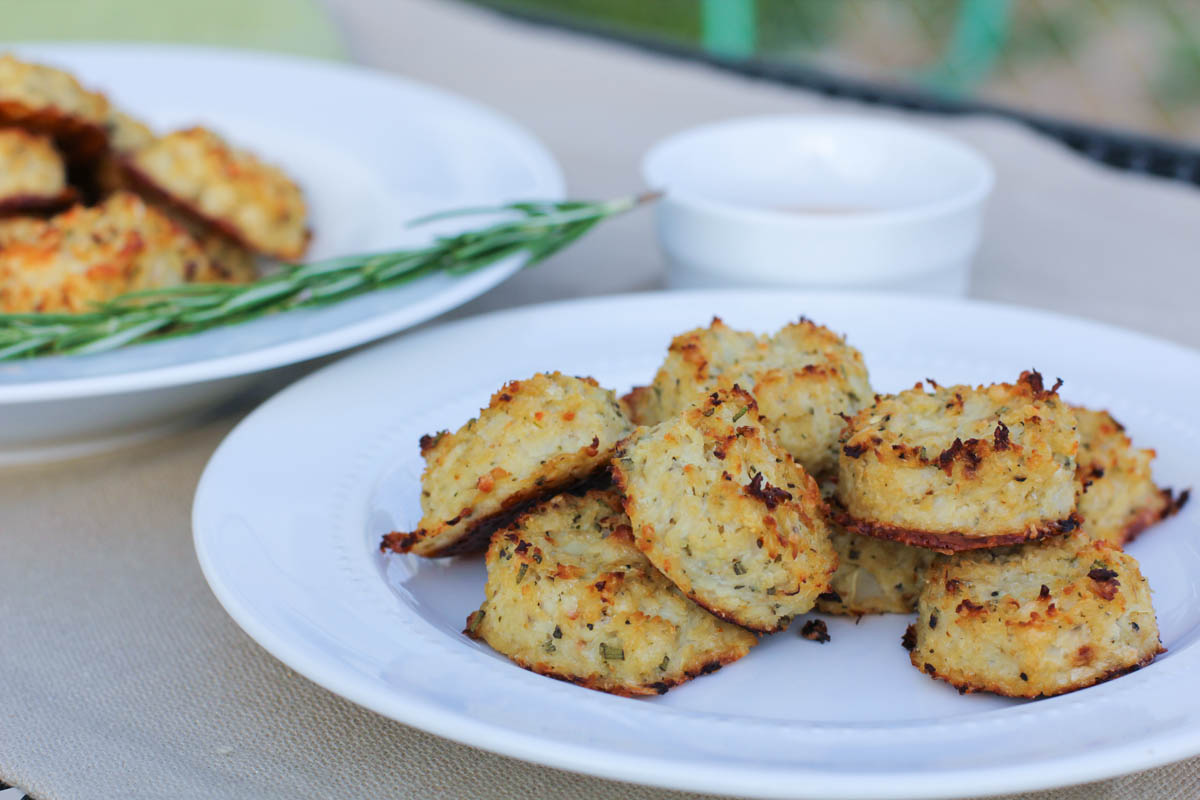 I got my inspiration for my tots from these Rosemary Parmesan fries we had at a restaurant in Boise,Idaho called FORK and from these Buffalo Cauli-Tots from Cupcakes & Kale Chips.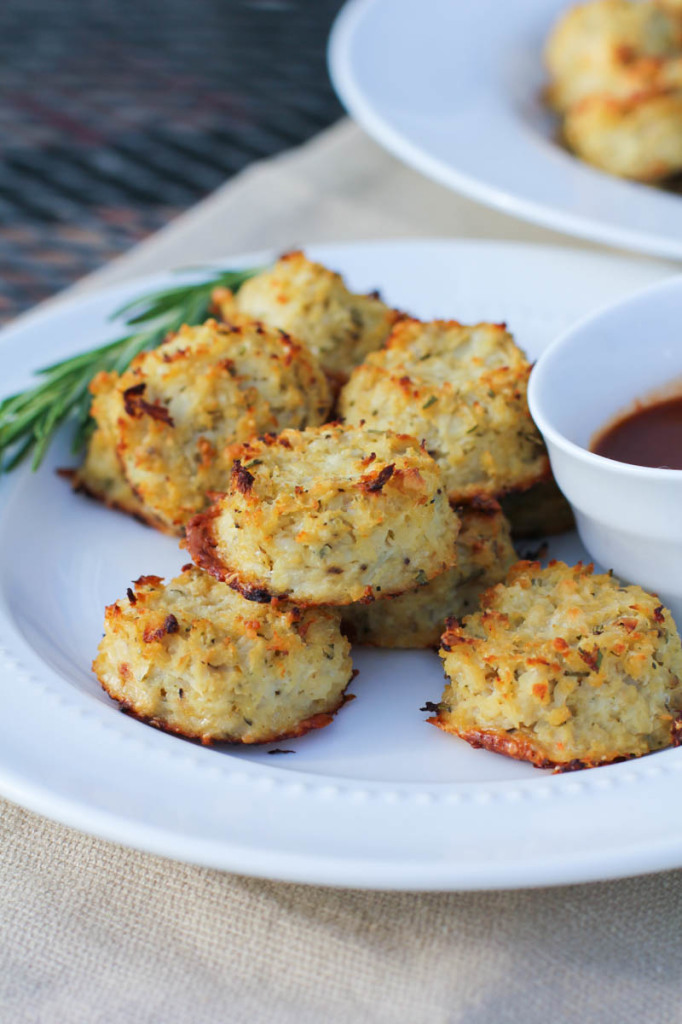 Parmesan Rosemary Cauliflower Tots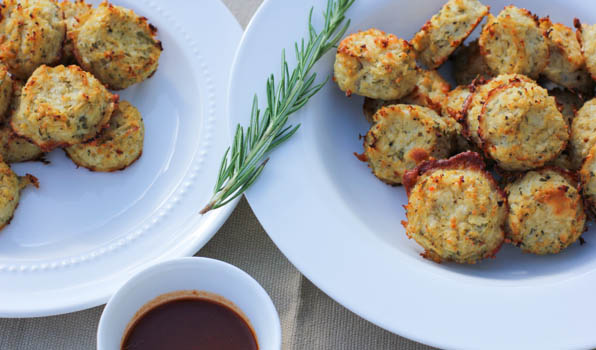 2 heads cauliflower
2 tsp. finely chopped fresh rosemary
Salt & Pepper (~1 tsp. each)
2 egg whites
1/2 cup (56 g) grated Parmesan
Preheat your oven to 375 degrees F.
Line a large cookie sheet with parchment paper.
Wash and chop your cauliflower into large florets (discarding the core and leaves).
Finely chop your cauliflower in a food processor until the grain is a little larger than an actual rice.
You may have to do this in batches depending on the size of your processor.
Spread your chopped cauliflower out over your parchment lined cookie sheet.
Bake cauliflower for 20 minutes, remove from oven and let it cool for 15 minutes.
Transfer cauliflower onto one or two large, clean, thin dishtowels.
Ball cauliflower up in the towel and twist up the towel so no cauliflower is able to escape the towel.
Squeeze as much liquid out of the cauliflower ball as possible (I was able to squeeze out about 12 fl. oz.).
In a medium sized mixing bowl combine the squeezed cauliflower, the rosemary, Salt & Pepper, egg whites, and ¾ of the Parmesan. Stir.
Ball the cauliflower up, like meatballs, into Ping-Pong sized balls (I used a cookie dough scoop).
Space out the cauliflower balls on your parchment lined cookie sheet.
Press down the top of each ball so you get more of a tater tot shape.
You can place them close together on the paper. I was able to place all of mine on one sheet.
Sprinkle the remaining Parmesan on top of the tots.
Bake tots at 375° for 20 minutes. Turn up your oven to 450° and bake your tots for 10 to 20 more minutes (depending on how brown you want them).
Remove from oven and EAT!!! (Makes ~28 tots)
Note: I dipped mine into a little hot sauce, but you can dip them into whatever awesome sauce you want to.
Cauliflower Tots recipe adapted from the Cauliflower Breadsticks Recipe at ifoodreal. Note: If you go to Olena's site you will find her amazing breadsticks recipe along with excellent instructions for getting the moisture out of the cauliflower.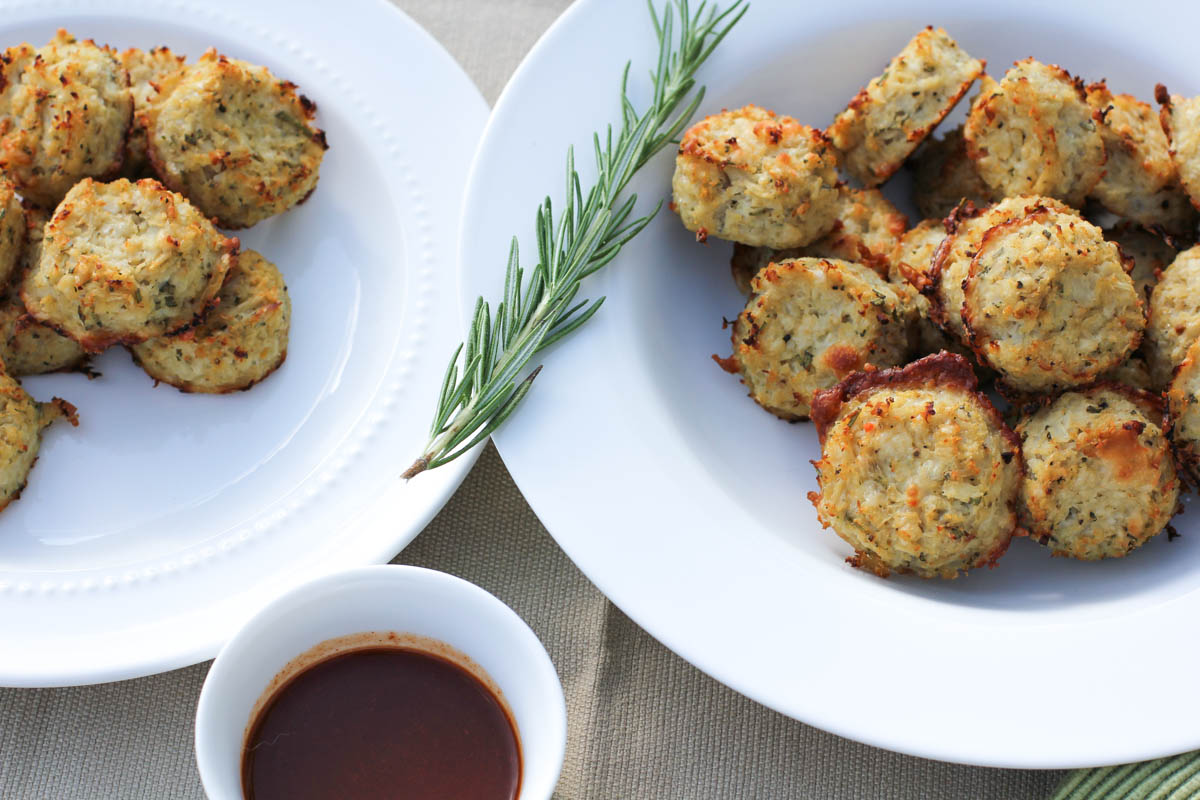 Note:  These tots don't taste like Tater Tots! They taste like Cauliflower Tots because they are made out of cauliflower.