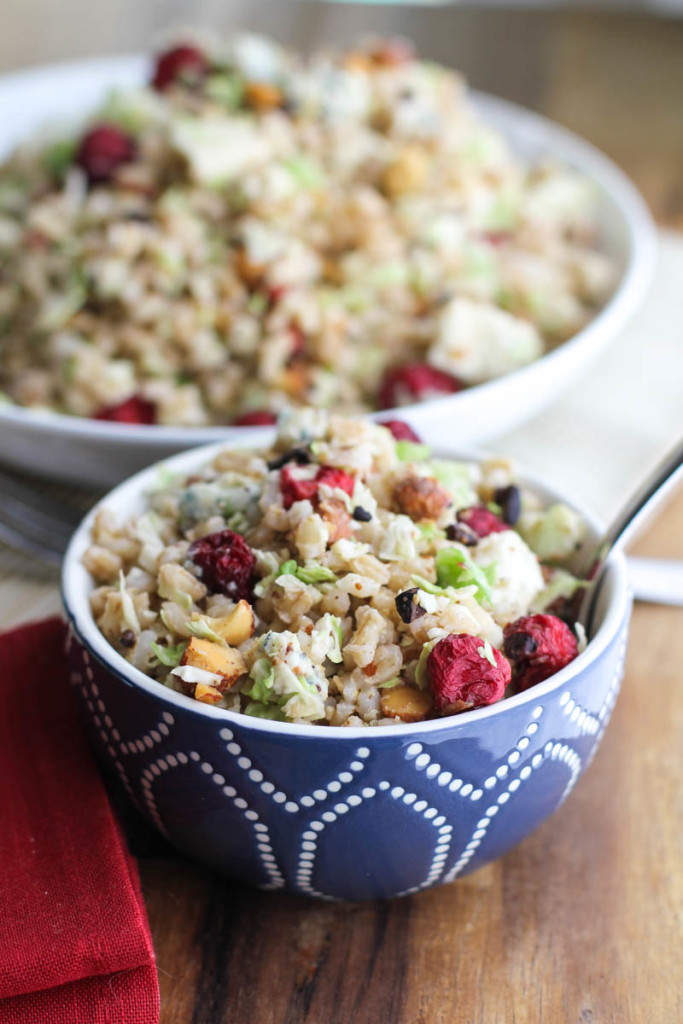 When I left work today it was snowing sideways.  I know it won't last. It's supposed to be 70 on Saturday. There's always something to look forward to!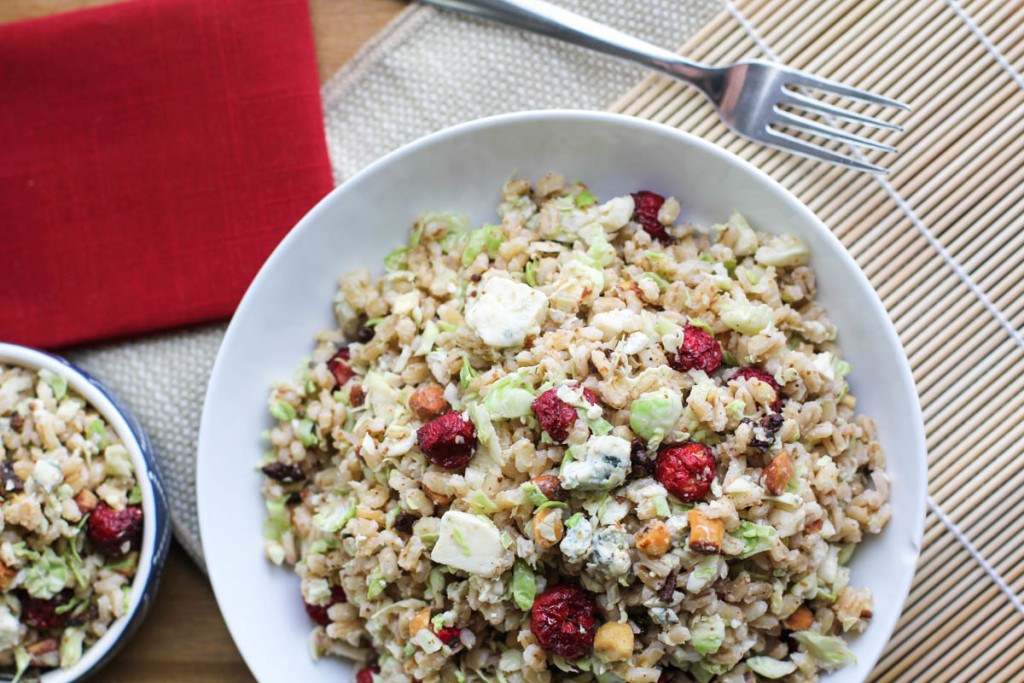 Like this salad! I've been looking forward to this salad every night for the last three nights. It is as good as it looks! It's got it all:  tart cherries, sharp and creamy cheese, sweet cocoa, chewy grain, crisp vegetables, and crunchy almonds.  All these things brought together with a salty, peppery, tangy dressing.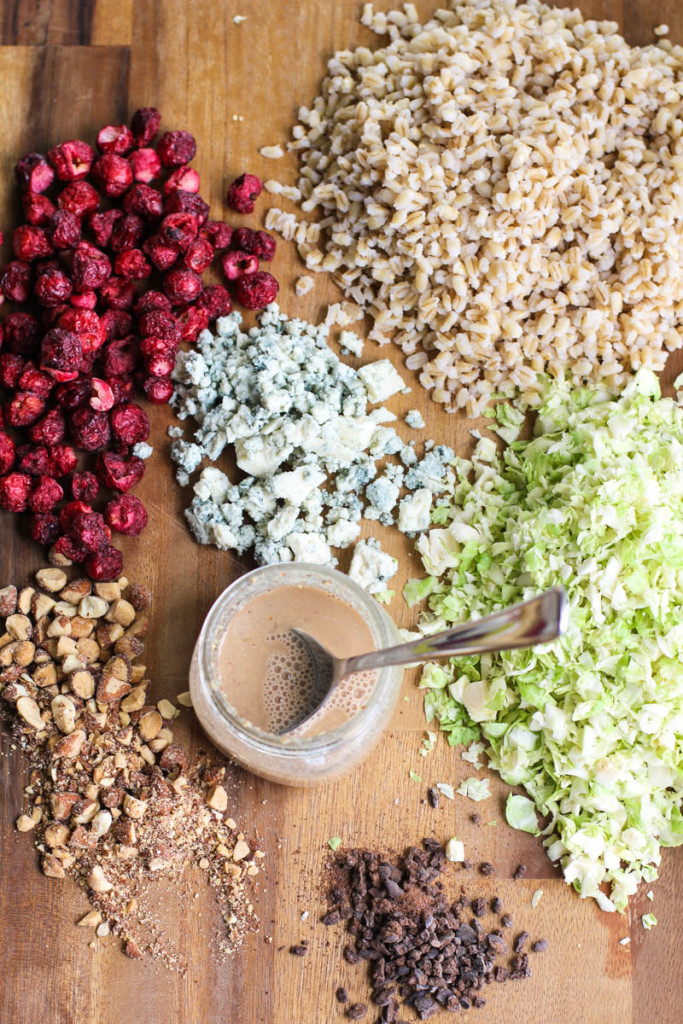 Sometimes these things just come together and work the very first time!
I'm beginning to really get into "Married At First Sight."  Even though the couples seem well matched, I really can't imagine any of the three couples staying together.  It's pretty silly that I'm concerned at all about this!
It's time for me to go eat the last little bit of this salad and then go to bed.  Have a great night!  I hope you wake up to warm temperatures and dry roads.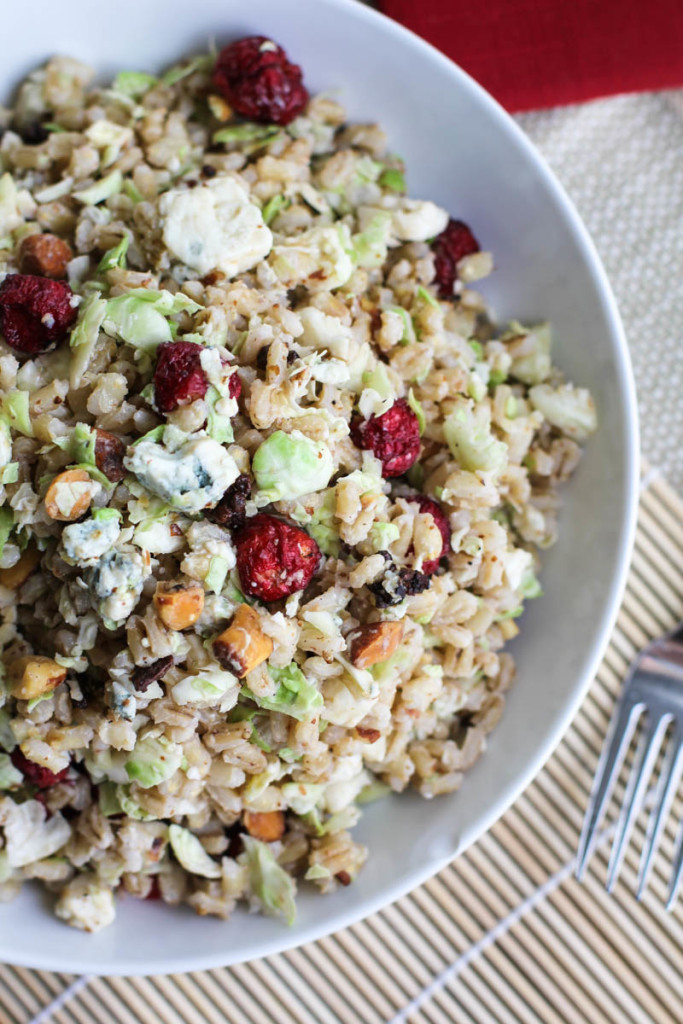 Barley and Brussels Sprouts Salad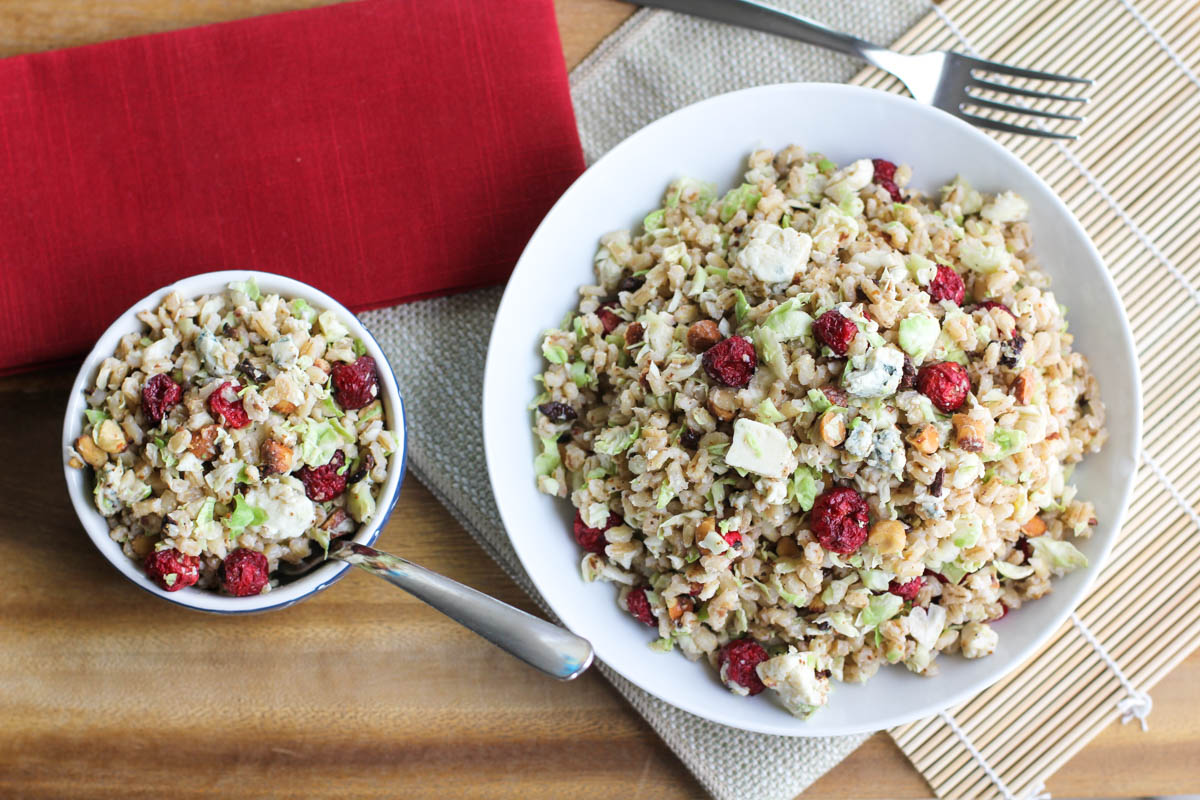 Yields: Makes 4 to 6 servings
1 cup (200 g) dried barley
3 cups water
1 Tbsp. Kosher salt
2 cups (170 g) shredded raw Brussels sprouts
½ cup (56 g) crumbled blue cheese
¼ cup (1 oz.) dry roasted almonds (roughly chopped)
¼ cup (1 oz.) cinnamon almonds (roughly chopped)
2 Tbsp. cacao nibs
2 cups freeze dried cherries (I used Just Berries)
2 Tbsp. red wine vinegar (I used Chianti vinegar)
2 tablespoon whole grain mustard
S (Kosher) & P (1 tsp. each)
¼ cup (~3 Tbsp.) water
Add 3 cups water and 1 Tbsp. salt to a medium sauce pan over high heat.
Bring water to a boil and add the barley.
Turn the heat to medium low, cover, and simmer the barley for 50 minutes.
After 50 minutes if there is any residual water drain it from the barley.
Add barley to a large mixing bowl and set aside.
Trim and rinse the Brussels sprouts and add them to a food processor.
Pulse the Brussels sprouts a few times until they are roughly chopped.
Add the shredded Brussels sprouts to the barley in the large mixing bowl.
To the barley and Brussels sprouts add the blue cheese, almonds, cacao nibs and freeze dries cherries.
Toss all ingredients to combine.
In a small jar add the vinegar, mustard, S & P, and water to the jar.
Fit the jar with a lid and shake it vigorously.
Pour the dressing over the barley mixture and tossed until all ingredients are well coated and combined.
Serve salad at room temperature. EAT!!!!
Preparation time:

20 minutes

Cook time:

50 minutes

Total time:

1 hour and 10 minutes